Enough with the color correction!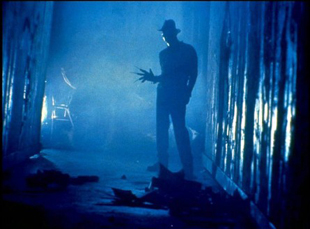 Posted by Vadim Rizov on
As humans, we're blessed with the ability to see a lot of colors and hues, which makes the world a better and brighter place. Dogs, on the other hand, have a more restricted range of options — they basically see the world as blue, yellow and gray. So I have no choice but to conclude that most movies now being made are created with a canine audience in mind.
Take a look at the trailer for the original "A Nightmare on Elm Street." The colors are natural, even flat: shadows aren't overwhelming, whites can be glaring and the whole thing generally looks naturalistic. (Which actually has a small advantage: it's hard to tell when people are awake and when they're asleep, which means the scares are more likely to come out of nowhere.)
Now look at the trailer for the upcoming remake. Lurid greens, blues and oranges predominate, even when there isn't really a reason. The shadows are overwhelming, and even normal indoor settings have this unnatural glow and sheen to them.
Damn near every Hollywood release seems to be color-corrected to death of late. Digital technology has enabled this kind of abuse with great frequency. The first film to be digitally tweaked from first to last was "O Brother, Where Art Thou?" There was a point to it — the Coens came up with a rough equivalent to sepia entirely appropriate for a film set during the Great Depression. Having done that, they knocked it off. Their subsequent films, like "Burn After Reading," don't have the same fine-tweaked sensibility. Ditto for Martin Scorsese, who turned "The Aviator" into a super-fun color palette test and then subsequently knocked it off to an extent ("Shutter Island" mostly uses the tweaks to approximate the lurid Technicolor Scorsese likes so much).
With a lot of other major releases, color tweaks are more annoying — it's as if studios think that audiences can't possibly focus on more than one color at a time. Horror movies are especially guilty of turning the world monochromatic for no reason at all. It nearly always looks like an assault, and it's kind of an eye-strain — after a while, I almost always want to see a real, untweaked color. It's especially there in the smeary tones of so many summer blockbusters, a trickle-down legacy from "Lord of the Rings." (I suspect part of the reason people dug "Iron Man" was because of how relatively unfussy it was).
Unmotivated color correction — for no other reason than to give your movie the sheen of a commercial — is a pest, just as much as overlighting an entire movie (the way Spielberg's collaboration with DP Janusz Kaminski means nearly all of his movies have ridiculous amounts of flare now). When it stops being a mood-setter and becomes a distraction, it needs to stop.
[Photos: "A Nightmare on Elm Street," New Line Cinema, 2010; "O Brother, Where Art Thou?", Touchstone Home Video, 2000]