Clash of the Titans trashes Bubo, spectacular failure.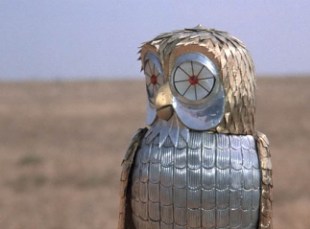 Posted by Brandon Kim on
"Clash of the Titans" sits atop the box office with an Easter weekend take of 61.2 million, a record breaker. Yet, apart from the stunning locations like Tenerife in the Canary islands, the film is one colossal, Kraken-sized turd. Nothing more than a vehicle for special effects and hard rock cues with tons of screaming in between hard stares.
I could have you that 4 months ago, and pretty much did, but I was still holding out hope for a couple things – all of which turned out to be false media rumors or outright deceptions by the filmmakers. Let's take a look at them.
1. UK band Muse was going to work on the score. That was never exactly true, but their singer/songwriter Matt Bellamy was at one point in talks to collaborate on the score. I'm no fan of Muse at all but I thought they could do something more interesting than the douched up metal flatulence that we heard in the trailer. Ultimately it wasn't to be. Instead we have composers Craig Armstrong ("The Incredible Hulk") and Ramin Djawadi ("Blade: Trinity," "Iron Man") responsible for the music and while it's not all terrible, taken as a whole, the movie sounds like something unsavory clogged in Hans Zimmer's toilet.
2. Liam Neeson, Ralph Fiennes, and Danny Huston. They're technically in the movie (and Ralph Fiennes is great, if a bit too Lord Voldemort) but barely used. Neeson is seems poorly directed as Zeus, well played in his blinding armor on Mount Olympus, but too affable everywhere else – this is a God who wields lighting bolts and rapes virgin princesses for fun. Danny Huston ("Children of Men," "The Proposition") is totally extraneous as Poseidon. What a waste.
3. Bubo. It's clear that director Louis Leterrier disdains smarts in favor of orgasms of testosterone. He directed "The Incredible Hulk" after all. But we were promised the lovable Bubo. He would have been one of the few things to help pace the nonstop action, maybe even bring a bit more attention to something called story. "It's exciting, it's thrilling, it's a little scary and it's fun but it's for kids and it's for adults at the same time. There's romance, there's horses… and Bubo," he told Collider in mid February. It was reported all over that Bubo was in the film by the producers and screenwriters too, that "homage" had to be paid.
That "homage" is nothing more than a crass 5 second jab at the original film and the genius stop-motion effects master Ray Harryhausen. They can't do Bubo like that! Sadly, these meatheads missed a golden opportunity to bring a modern recreation of that little chirping sidekick to life. He would have improved the soundtrack 10 fold too. Don't foul your ears and eyes with this poor remake.
Bubo, or No Bubo?