Review: "Clash," a martial arts flick for those who don't mind derivative fun.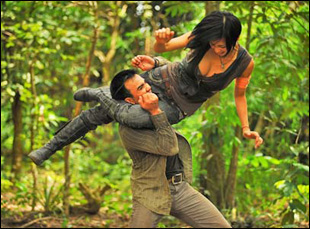 Posted by Matt Singer on
Reviewed at the 2010 Tribeca Film Festival.
When a movie begins with the image of two dead bodies, a gun and a sword arranged into the shape of yin and yang, you know you're not in for an exercise in subtlety and restraint. And sure enough, the Vietnamese martial arts film "Clash" only gets more heavy-handed from there, with brooding heroes, cackling villains, and heartfelt meditations on the duality of cops and criminals. (The yin! The yang!) This is a movie with fight scenes so operatic they're scored with actual opera music, and a mind-blowing shot of a single tear splashing off a gun barrel. As you can see, "Clash" is not lacking for sincerity.
It's not lacking in fun either, provided you're in the mood for fun that's way over the top and as recycled as a box of Seventh Generation tissues. The plot concerns a bunch of badass gangsters assembled for a "Reservoir Dogs"-ish heist and given "Reservoir Dogs"-ish nicknames. (One guy even has a Steve-Buscemi-in-"Reservoir Dogs"-ish resistance to his cutesy "Reservoir Dogs"-ish nickname.) Knocking on if not completely busting through the fourth wall, the characters acknowledge that their new team and its extensive list of rules like "No bullshit questions" is "cheesy, like some Hong Kong movie!" And indeed it is. These self-aware mobsters also have extensive backstories to bring additional John Woo-ish flavor and moral complications to their underworld activities.
The movie isn't original, but it's clearly having fun with its influences. And it does at least deliver on the level of viscerally entertaining action sequences, the first I've seen to incorporate mixed martial arts moves into traditional punch-and-kick choreography. Plus, there's something endearing about the way fights tend to break out in "Clash" at the smallest provocation, with very little attention paid to the standards of normal human behavior. Every time two or more people in the film have the slightest misunderstanding, they start beating the crap out of each other. (I kept waiting for someone to literally drop their hat and then kick someone in the face but, alas, no.) Yet if the sequences are largely unmotivated, they are also largely done with skill both in front of and behind the camera. Neither of the two ridiculously attractive leads (Johnny Tri Nguyen and Ngo Thanh Van) have the inventive acrobatics and timing of Jackie Chan or the pure physical gifts of Jet Li, but they're never less than totally invested and totally believable.
Though the cinematography has a certain monochromatic panache (cool blues for action scenes, warm earth tones in flashbacks), "Clash" isn't so much a stylish film as it is a film about characters with a certain sense of style. There was probably an easier way for Nguyen's Tiger and Van's Phoenix to obtain that crucial bit of information at the nightclub, but there wasn't a better way to look sexy while doing it than dancing an audience-distracting tango. Both actors look like major stars in the making, particularly Nguyen, who bears certain similarities to a young Clint Eastwood: casual handsomeness, a gift for silent intensity, a strong sense of moral outrage, and believable bursts of white-hot anger. All he's missing are those gargling-with-rock-salt vocal chords and he'd be ready for a "Dirty Harry" remake. Someone get that kid a pack of Camels.
According to the film's press notes, "Clash" is the highest grossing film of the year in Vietnam, and it's easy to see why: solid genre thrills, attractive leads, and good stunt work. It's the well-made foreign version of a film we've seen many times, if not always at film festivals. Largely cribbed from other movies, it does feature at least one alarming innovation I haven't seen before: advertisements for the film's corporate sponsors during the closing credits. They're not exactly subtle either.
"Clash" is currently without U.S. distribution.
[Photos: "Clash," Chanh Phuong Phim, 2009]