Casting the supporting bloggers on HBO's "Tilda."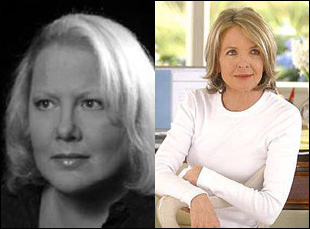 Posted by Matt Singer on
Entertainment Weekly reported yesterday that Diane Keaton is close to signing on to play the title role in the upcoming HBO series "Tilda," a show described by EW as "a half-hour comedy series about a powerful and much-feared Hollywood blogger that is not based on powerful and much-feared Hollywood blogger Nikki Finke."
The show will probably feature characters from all walks of Hollywood life from studio execs to movie stars; you can practically smell the impending "Entourage" crossover. But if Keaton is not playing Finke, the influential and notorious editor in chief of Deadline.com, series producers Bill Condon ("Dreamgirls," "Gods and Monsters") and Cynthia Mort (HBO's "Tell Me You Love Me") are definitely going to need actors to not play her competition in the world of L.A. blogging. With Keaton nearly locked down, here are some casting suggestions for the rest of the bunch.
Artie Lange Not Playing Movie City News' David Poland
Lange's hilarious evisceration of Joe Buck on the live premiere of Buck's HBO talk show (so you know the network loves him!) is practically an audition tape for this kind of role. Poland is one of Finke's most vocal and frequent critics — of the 18 stories Poland filed on his Hot Blog since last Tuesday, four mentioned Finke by name. Lange would be a logistical nightmare for the show — he's still recovering from a suicide attempt last January — and he'd have to lose a bunch of weight for the role, too, but if he could pull himself together for it, he would be absolutely perfect as the guy who simply refuses under any circumstances to be a kiss ass.
Gary Sinise Not Playing TMZ's Harvey Levin
Finke (or not Finke, sorry) isn't the first blogger to get her own series. Celebrity and entertainment news site TMZ.com has had its own television show since the fall of 2007, hosted by the site's managing editor Harvey Levin. TMZ is more about tabloid gossip, while Deadline.com is focused on insider business info, but two figures this powerful would make great adversaries for a season-long story arc. We like Gary Sinise for the part: like Levin, host and legal analyst for "The People's Court," he knows the New York justice system from "CSI: NY." Plus, he's got the right build, the right hairline and we wouldn't mind hearing his version of Levin scream at Keaton's character like Lt. Dan screamed at Forrest Gump.
Gabrielle Carteris Not Playing The Wrap's Sharon Waxman
Some have speculated that the Tilda character will also include elements of former New York Times/Washington Post correspondent and current editor-in-chief of the entertainment news site TheWrap.com, and it might. But even if it does, Tilda's going to need a competitor, and a Waxmanish figure would fit the bill, especially in a storyline "ripped from the headlines" about her recent and ongoing feud with Newser's Michael Wolff over the ethics of web links and content aggregation (Mmm… content aggregation drama — smell the ratings!). As an actress, not only does Gabrielle Carteris resemble Ms. Waxman, she's got plenty of experience playing the ethically minded, crusading journalist from her time as Andrea Zuckerman on "Beverly Hills, 90210."
Christopher Walken Not Playing Hollywood Elsewhere's Jeffrey Wells
In my mind, there's only one guy to play Hollywood Elsewhere's lovably eccentric blogger Jeffrey Wells; the lovably eccentric Christopher Walken. Who else could bring Wells' prose to life? Who else could speak convincingly about "emotionally vivid cowboy hats"? Who else could decry mildly overweight husbands of movie stars as "food monsters"? Who else could endear himself to us even as he crankily leaves a film festival before the panel he'd been flown out to participate in because he can't get a decent Wi-Fi signal? Frankly, the idea of Walken as Wells sounds so good, it deserves its own HBO show.
[All photos property of their respective owners and used without permission]