The unlikely perseverance of Bugs Bunny.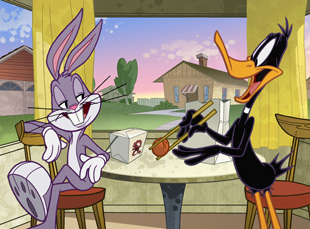 Posted by Vadim Rizov on
Yesterday, Cartoon Network announced that one of their new shows is a "Looney Tunes" reincarnation — "The Looney Tunes Show," which will safely relocate all the beloved characters to the suburbs. In the promo still at left, Daffy and Bugs appear to be enjoying Chinese take-out. The passionate animation nerds over at Cartoon Brew are not amused, with writer Amid Amidi sneering that this image "looks worse than your average fan art." The comments section is, of course, contentious, with conspiracy theories about the original animators being fired and higher-up-interference.
But has any beloved cultural franchise weathered crass commercialization so hardily as "Looney Tunes"? These days, the characters greet visitors to Six Flags theme parks, hock clothing and pretty much anything else that can have a face slapped on it. There was a crappy movie with Michael Jordan, a better one with Brendan Fraser no one saw, and a dearth of new, quality cartoons since the '60s (the revivals since are middling fare — see "Hare and Loathing in Las Vegas," featuring the indelible line "Buenas noches, loserinos"). For various reasons detailed in Wikipedia, they don't get to run rampant over Saturday morning cartoons anymore.
And yet not only have the "Looney Tunes" characters remained widely beloved by generations of kids, untarnished by their exploitation, they haven't seen any fundamental changes in a good long while — they're older than "The Simpsons" but have more goodwill left over. Bugs, Daffy and co. have remained more or less the same after their early evolutionary hiccups, and the original cartoons have hardly aged at all. While the work of the Fleischer brothers (Betty Boop) seems more derangedly surreal and adult-oriented with every passing year and the Disney shorts require familiarity with their historical context (or at least a tolerance for anachronism) to really work, the precisely-timed "Tunes" remain as zippy and breathless as they ever were.
The outrage over at Cartoon Brew seems misplaced; like the lousy remakes that come and go, "Looney Tunes" seem as destined for agelessness as anything around. To be sure, there are numerous cartoons not in general circulation because of their dated stereotypes, and early '30s prototypes not watched by too many these days — but the cartoons that most people associate with the series really do come as close to being undated as possible. The animation has no need to be "improved" or cut faster.
And the series has weathered rougher time, like the ugly late-60s closing period, marred by cheaper animation and bland new characters. For example, here's Cool Cat — a proud product of the '60s, with backing lounge music, who calls people "man" with no provocation and fights off "Injuns." This was the last of the original series of from the Warner Bros. Cartoons studio, and almost no one except for the historians remembers it:
[Photos: "The Looney Tunes Show," Cartoon Network, 2010; "What's Opera, Doc?", Warner Bros., 1957]