Review: "brilliantlove," British hipsters in love and squalor.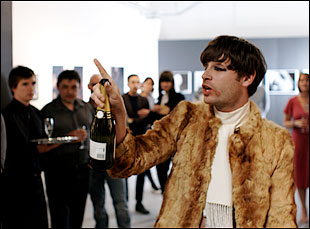 Posted by Alison Willmore on
Reviewed at the 2010 Tribeca Film Festival.
"brilliantlove," directed by Ashley Horner, is a British hipster wish-fulfillment fantasy pretending to be a romance. Its lovers, Manchester (Liam Browne) and Noon (Nancy Trotter Landry), live in shabby paradise in a single-car garage on a hill. They have no visible means of supporting themselves, but they do have hobbies. Noon's is taxidermy — she keeps dead birds she finds in the freezer until she has time to work on them. And Manchester's is photography — photography of Noon, naked, or asleep, or while they're having sex (they have a lot of sex).
One day, a vaguely sinister man named Franny (Michael Hodgson) finds the artless bedroom shots Manchester left behind in the pub after a bender of a night, and devotes a lot of energy to seeking Manchester out and offering him money for the photos — he thinks he can make Manchester into an art star, and, with ridiculous ease, he does. People flock to his opening ("His technique is that he has no technique!" one declares) and applaud when he gets drunk, calls them names and pisses on the floor.
He has, however, unwisely neglected to tell Noon about his plan to make their very private lives public, and she's furious and finishes with him. He flees the cruel, cruel art world that tried to exploit their pure, pure love, and tries to win her back, first by making a diorama of their garage, and then by nearly dying of autoerotic asphyxiation.
If there's any worth to "brilliantlove," it's in its attempt to portray the all-consuming throes of early love/lust, of feeling an infinite capacity to be open with someone else, mentally and physically, and to find that person's every last glancing thought and detail profound. In theory, at least. In practice the film often gives you the feeling of being stuck in an enclosed space with an irritating couple who are really into PDA and really want you to know it.
Noon and Manchester boink incessantly, sometimes accessorized with Otter Pops (!) and other times with the help of salacious messages left for each other on a tape recorder. It's not terribly sexy or engaging — your mind starts to wander toward how they manage to bathe (eventually you get a loving shot of Manchester washing his junk in a bowl) and why no one in the film seems to have discovered the internet (what year does it take place in?), where artless photos of random people having sex are commonplace and certainly not the stuff of cutting edge gallery shows. "brilliantlove" yearns to be frank and genuine, but presumes, even within its own storyline, that that automatically equals interesting. It doesn't.
"brilliantlove" does not yet have U.S. distribution.
[Photo: Geraghty and Helfer in "Open House," StoneBrook Entertainment, 2010]