Boxhead Ensemble performs live score to motion-picture project, "HERE."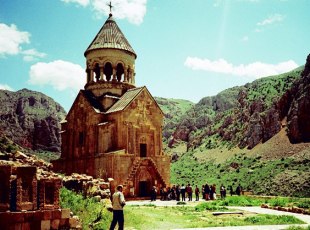 Posted by Brandon Kim on
"HERE" is a feature film by director Braden King, starring Ben Foster ("The Messenger," and the bad ass in the tough, double-buttoned leather jacket in "3:10 to Yuma"), and Lubna Azabal ("Paradise Now," "Body of Lies"). A road movie and landscape romance about an "American satellite-mapping engineer and an Armenian photographer who impulsively decide to travel together into uncharted territory."
[Monastary in Armenia. Location still from "HERE."]
The film was scored by composer Michael Krassner and the Boxhead Ensemble, featuring the likes of Califone's Tim Rutili and Jim White (Dirty Three, Cat Power). What's more, the group will be performing live for a project called HERE [The Story Sleeps] at MoMA. It's a one night only performance of live music, and projection – a kind of living echo of the feature film. Or as director Braden King described, "an abstract re-mix of the film AND the experience of making it. Multiple screens, and custom software that allows the music to affect the imagery." From what I've already seen and heard, it promises to be real dreamy!
The MoMa performance is Friday, April 30, 2010 at 7:00 p.m, if you are in NY. Check it out here.
But wait! There's a third piece to this Armenian puzzle. "Postcards from HERE" is a documentary series by Ava Berkofsky that further explores the landscapes, the people of Armenia and the making of "HERE." Have a look, I found it to be truly compelling, and beautifully shot.
The Boxhead Ensemble's rotating lineup has included Will Oldham, Guillermo Gregorio, David Grubbs (Gastr del Sol), Glenn Kotche (Wilco), Jim O'Rourke (Sonic Youth), Jeff Parker (Tortoise), Tim Rutili (Califone), Jeff Tweedy (Wilco, Uncle Tupelo), Ken Vandermark, Jim White (Dirty Three, Cat Power) and many others.
More on the Boxhead Ensemble.