Do we really want a show about Hollywood industry bloggers?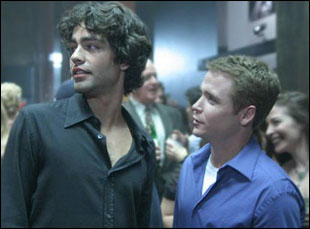 Posted by Vadim Rizov on
Given the fuss over the prospective HBO "Tilda" pilot unofficially based on blogger Nikki Finke, it was only inevitable that someone would step up to argue about whether it's a good idea and not. This despite the fact that, as the Hollywood Reporter's Matthew Belloni puts it, "On the accessibility scale, 'Tilda' makes 'Entourage' look like 'Hannah Montana.'"
And so, we have a two part series from Robert W. Welkos at Hollywood News giving us the scoop on all the industry blogger history and hijinks. Like: one time David Poland wouldn't let Jeffrey Wells ride in the same car as him on the way to Sundance! Woah!
Last year, David Carr rubbed salt into the dying media wound by reminding us that "as recently as four or five years ago, to be a member of Manhattan media, you weren't rich, but you lived as a rich person might. You went to the parties that a rich person would go to, you ate the food that a rich person would eat, you drank the vodka that a rich person would drink, and you'd end up in black cars, and you'd end up sometimes on boats and in helicopters. We lived as kings, and it convinced us, I think, that there was a significant underlying value to what we did."
For a long time, the definition of what it meant to be a journalist coincided quite conveniently with a lifestyle that enabled excess otherwise economically out of reach. A shifting media landscape has ended that. Enter the entertainment bloggers, who took up the free-drinks and shoulder-rubbing mantle while fussing over "journalism" and "reporting" standards — accusing each other of posting false rumors or caring about traffic over truth when what's at stake are the revolving door hirings and firings of studios and casting news.
Yet for all the huffing and puffing, the real subject of name-brand bloggers are themselves — namely, how they have both the knowledge and the discerning taste that makes them one-stop reading. As Pete Hammond (of all people!) points out, "some bloggers like to be part of the story, be part of shaping the story." Try all. There is no story, just a series of conjectures and rumors being hastily molded and remolded.
A series like "Tilda," no matter how amusing, is the logical culmination of their efforts. It's like Finke's arrived at the same level of prominence that powered a movie like "Sweet Smell of Success," with Burt Lancaster as a thinly-disguised Walter Winchell-type. Even if "Tilda"'s as savagely mocking as reports suggest, that's still sad. They get to be the story, just like they always wanted.
[Photos: "Entourage," HBO, 2004; "Sweet Smell of Success," MGM/UA Home Entertainment, 1957]