Are blockbusters really becoming too intellectualized?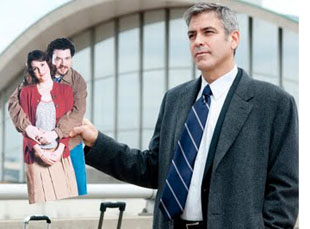 Posted by Vadim Rizov on
Slate sometimes prides itself for contrarianism, but if there's a point to Tom Shone's claim that "Blockbusters have become way too intellectual," I'm not sure what it is. I've read it three times and it becomes more baffling every time, because Shone thinks the main problem with "Up In The Air" is that it wasn't emotional enough, because he's really looking forward to "Love and Other Drugs," in which Pfizer salesman Jake Gyllenhaal falls for Parkinson's victim Anne Hathaway, and because, well, he believes Hollywood movies are too intellectual and not emotional enough.
It should be noted that Shone himself doesn't use the word "blockbuster" once — the label is only present in the presumably editor-provided subhead. To co-opt the term anyway, it is halfway true that the modern blockbuster is more overtly "intellectualized" than its predecessors. "Star Wars" is about movie love and good vs. evil, while "The Dark Knight" is openly about the ethics of the surveillance state, entropy and the prisoner's dilemma. "Superman" is about a dude who can spin the world backwards on its axis and reverse time, while "X-Men" is an allegory for homophobia and tolerance.
One thing most blockbusters do have in common is that they tend to be much more fun to pick apart subtextually than smaller-budget movies, which have to focus and achieve their goals with precision — there's not much room for error or weird outside influences to sneak in.
Blockbusters, though, have cash and resources to spare. They also often have scripts that are easily distracted or lavishly incoherent. While that may not make for flawless viewing, it does make things interesting in other ways. Blockbuster casts are frequently stacked with actors possessed of far more acting talent than they're required to display (see John Malkovich's upcoming turn in "Transformers 3," or Ian Holm slumming in "The Day After Tomorrow"), which lends to all kinds of odd connotative experiences, in the same way that it's impossible to watch "Gandhi" without getting weirded out by Candice Bergen's presence. Some actors take their images with them no matter where they go.
Of course, you can pick apart blockbusters for subtext all day long for academic ends — the "Alien" series has become a cornerstone of feminist studies. But they're also unintentionally resonant, overlapping with actors that summon up all kinds of memories and themes they can't process in ways that don't require intellectual stretching to pick up on. The great independent films may be better at achieving their goals as intended, but it's the blockbusters that can, unintentionally, pick up on things that will linger long after they're meant to. Long after Malkovich's sole feature directorial effort "The Dancer Upstairs" fades away, we'll still parse him through these weird paycheck tangents.
[Photos: "Up In The Air," Paramount, 2009; "X2," 20th Century Fox, 2003.]