Review: "Beware the Gonzo," not your typical teen comedy.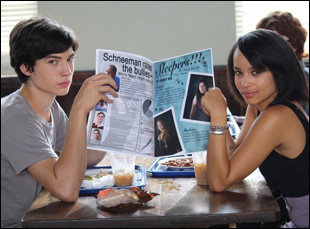 Posted by Stephen Saito on
Reviewed at the 2010 Tribeca Film Festival.
There seems to be no end to interesting tales from high school. Take for instance, Bryan Goluboff, who, while attending Bellmore Kennedy off the shore of Long Island, started up an alternative to his high school newspaper when he was fed up with the leadership and was fired. With the gusto of your average New Yorker, Goluboff explained to the crowd gathered for his directorial debut: "First, I was righteous, then I was savage… and possibly psychotic."
He described how he wanted to transfer his personal story to film, opening with a battered Ezra Miller confessing to the camera how he ruined all of his personal relationships by starting up a newspaper, just so the audience wouldn't think this was your run-of-the-mill teen comedy. "I wanted to show the high school types and sort of explode them as I went," said Goluboff.
Apropos of the high school milleu, Goluboff fills "Beware the Gonzo" with plenty of one-liners that detonate like cherry bombs. Alas, too few really explode. It doesn't help that its star Miller was the face of the truly incendiary "Afterschool," where his narrow eyes, high cheekbones and blank stare suggested a killer instinct that's played for punchlines here. As a cub reporter reared on Hunter S. Thompson, Eddie "Gonzo" Gilman pushes a microcassette recorder in the faces of fellow students and wears a trenchcoat to signal he's dogged. Supposedly, this has impressed the dean at Columbia's School of Journalism, with whom we're led to believe he has a running dialogue.
Gonzo's barely acknowledged by anyone at his own Parker Prep until he decides to create a tabloid named in his honor, the Gonzo, and relies on the work of his small group of outcast friends — a bob-haired Asian with constantly upturned lips, a wiry kid with a fetish for the fat and disabled, and a solemn target for bullies whose jet black-rimmed glasses quite pointedly offset his pale white flesh and tufts of red hair. (As Goluboff said of the actor playing him during the Q & A, "You can't teach that complexion.")
The Gonzo's first publication makes waves amongst the student body, but its sudden success is at the expense of the film's, since it's unimaginable that throngs of students would be lining up the following day to work at the paper, let alone read it. This is something Goluboff understands… to an extent. He inserts a conversation about the death of newspapers into the film early, having the devoted ink-stained wretch Gonzo defend the power of print against his future sex columnist Zoe Kravitz's claims that they need to start a website. But allusions to Thompson and the McCarthy hearings may go over the head of the film's intended audience, unless of course they mistake the latter as a relative of Jesse McCartney, who plays the film's villain Gavin Riley, a rare editor-in-chief who doubles as a star athlete. (His introductory scene drew shrieks from a certain segment of the crowd.)
Unlike the worlds built in similar films of recent years, like "Assassination of a High School President" and "Brick," "Beware the Gonzo" doesn't strive for a heightened reality, but gets there anyway. Any time Riley enters the room with Gonzo, the room magically clears as if a "High Noon" duel was about to take place. Similarly, one of the film's more intriguing confrontations, when Kravitz's Evie Wallace executes her plan to out the guys who have lied about having sex with her in her sex column, is diffused quickly when the jerk in question challenges her in the middle of the school lunch hall and is taunted by the entirety of the cafeteria, as if on cue.
If the tone were consistent, such scenes could make sense, but when a particularly ugly reveal happens late in the film, it feels out of step with a movie that's primarily concerned with having a good time, something that's at odds with Goluboff's previous writing credits on "In Treatment" and "The Basketball Diaries."
It should be said that "Beware the Gonzo" might not be entirely finished yet — when an audience member asked about a story point at the end of the film, Goluboff realized a line of dialogue went by too fast and suggested he would go back and tinker. This feels like a film that could be improved in the editing room.
"Beware the Gonzo" is currently without U.S. distribution.
[Photos: "Beware the Gonzo," Cornerstore Entertainment, 2010]