Bahman Ghobadi Knows About "Persian Cats"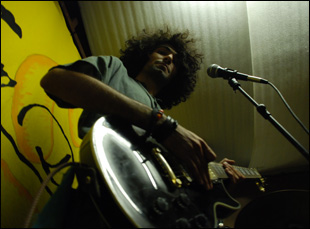 Posted by Matt Singer on
You hear people use the phrase "underground music" sometimes. Typically, they're speaking metaphorically, but in "No One Knows About Persian Cats," the term takes on an all-too-literal meaning. In modern day Tehran, the Iranian government has banned nearly all popular music, forcing young artists to write and play in secret, often in basements, where they stand their best hope of working free from governmental interference. The barely fictionalized film follows two aspiring Iranian musicians, played by Negar Shaghaghi and Ashkan Koshanejad from the band Take It Easy Hospital, as they try to assemble a new group for a European tour. Along the way they take in — and the movie documents — performances from almost a dozen different bands (from almost a dozen different genres) from the Tehran underground.
Music isn't the only art form under assault from the current Iranian regime; popular Iranian filmmaker Jafar Panahi ("Crimson Gold," "Offside") has been imprisoned without cause since March 2nd, something "Persian Cats" director Bahman Ghobadi alluded to during our interview. Ghobadi has right to be worried for his colleague, and for himself. I spoke with Ghobadi in Manhattan, where he was joined by translator Sheida Dayani and his "Persian Cats" co-writer and fiancée Roxana Saberi, an Iranian-America journalist who's had her own troubles with the Iranian government. Last January, she was abducted, accused and convicted of spying on behalf of the United States, and sentenced to eight years in prison. Saberi's conviction was eventually appealed and overturned, and she was released, right around the time that Ghobadi took "Persian Cats" to the Cannes Film Festival, where it won a Special Jury Prize in the Un Certain Regard sidebar.
The film introduces us to Negar in a recording studio, where the engineer tells her about the man who's in the recording booth at that moment. He's a film director, struggling with his new project about the Iranian underground music scene. In other words, it's you. Is that how the project originally started?
It's exactly how the film came to be. I always loved music and I always wanted to make a film about it, but I could never do it because of the censorship that was around. So when I went to one of these studios and met these kids and the underground music world, I decided this was the right time to do it.
You and Roxana are credited as co-writers of the film, but many scenes have an unscripted, documentary feel. How much of the film was scripted?
When we started shooting, we had about 20 or 30 pages of a script. But we kept getting ideas from the kids and the bands that we met. I didn't change any locations and I didn't change any people. Everything was real. Ninety-five percent of the time, I was truthful to reality. The other 5% is just humor that I added because I didn't want the film to be all about suffering.
Given that 95% of the film is truthful to these kids' reality, did you ever consider just making a documentary about them?
My original plan was to make a documentary. I didn't do it because in the film world today distribution for independent documentaries is really bad, and I realized that the film itself was not as important to me as getting the voices of these kids out. I had seen some films made about the underground music world in Tehran and most of them were short documentaries about 30 or 40 minutes long. And I always wondered why they weren't publicized more. Really, their only flaw was they were short documentaries.
I knew this was my one and only chance to make a film about the underground music world in Iran, so it was important to me that I show you as much of it as I could, both of this subculture and of the real Tehran. The film became a medium for exposing the world to these musicians.
You shot the movie without permission from the Iranian government, and there's this palpable cloud of anxiety hanging over the entire movie, as if at any moment the cast and crew could all be arrested. Did you have any real problems with the police during the shoot?
That stress that you're pointing out was really there. I was very nervous the entire shoot. The film was mostly shot indoors and the two or three times we took the camera outside, we shot those scenes very quickly and hid the camera somewhere it couldn't be seen. All those sequences were shot with one lens because I didn't even have time to change lenses.
There was only one time that we were stopped by the police. We were in Tajrish Square and we had to talk to them for a few hours. We had to convince them that we weren't doing anything bad.