Great Moments in Bad Baseball Movie History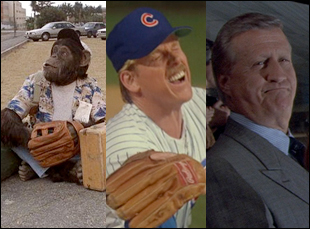 Posted by Matt Singer on
"I believe in the church of the baseball," Susan Sarandon's Annie Savoy said in "Bull Durham." I do too. Especially right now in early April, when the weather is perfect, and every team has a chance, at least hypothetically, to go all the way. In a few months, half the teams playing and half the fantasy baseball managers watching will already be thinking about next year. But this is the time of year when every baseball fan gets excited, has hope, and believes.
I also like to believe in the church of baseball movies, but they make it awfully difficult sometimes. There are some classics, but just as there are more bad pitchers in the league than good ones, there's more bad baseball movies than good, and more than a few that deserve to be sent back down to the minors because they weren't cut out for the big show. Here, now, some classic moments from bad baseball movies that left me offended, slightly bemused, and very glad I have the real thing to watch instead for the next six months.
A Monkey Becomes The Best Player in the Game in "Ed" (1996)
You've heard the expression "It's so easy a monkey could do it!"? The tortuously bad movie "Ed" takes that maxim all too literally. The Santa Rosa Rockets and their new young pitcher Jack Cooper (Matt LeBlanc) are struggling, so their owner gets the team a mascot to boost morale: a live chimp. To everyone's surprise, the chimp, who answers to the name Ed and wears human clothes, is a natural baseball player. Not only does he understand the game, he also seems to understand English, pees in the toilet and is a great wingman on dates. When the Rockets' manager Chubb (Jack Warden) tries to field his monkey at third base and the other team complains, Ed's struggle becomes a matter of civil rights. "Baseball is America's game!" the umpire ultimately rules. "Every American regardless of race, creed, color, species, body hair and brain size has the right to play the game!" Fine. But the Rockets should have looked a little more carefully at their phenom. He throws the ball to first base so hard it actually burns a hole through the fielder's glove, which would seem to make him more of a liability than an asset. I guess screenwriting isn't so easy a monkey could do it.
Product Placement Hits a New Low in "The Benchwarmers" (2006)
There's a subtle, organic way to do product placement in baseball movies — stick a couple banners on the park's outfield wall and you're halfway home. Granted, product placement is rarely subtle or organic, but the way it's used in the inspirational underdog baseball comedy "The Benchwarmers" sets a new standard for offensive obviousness. After a couple of misfits (played by Rob Schneider, David Spade and Jon Heder) win a baseball game against a couple of neighborhood bullies, it's time to bask in their glory. "You know the best part about winning a baseball game?" asks Schneider to his dopey teammates. "Going to Pizza Hut to celebrate!" From there, the Hut provides the location for several scenes, and a nickname for Spade's love interest (that would be "Salad Girl From Pizza Hut"). The Benchwarmers learn some life lessons, eat a lot of sunscreen, teach Craig Kilborn that baseball's supposed to be about fun, and then triumph in their own unique style at the final game. So where do you think they go for the postseason party? You guessed it. Instead of paying for movies like "The Benchwarmers" to get made, why don't companies set up relief funds to reimburse people who actually pay to see them? I'm sure they'd get plenty of unsubtle attention and much more organic PR.