Why enjoying awful movies has gotten so complicated.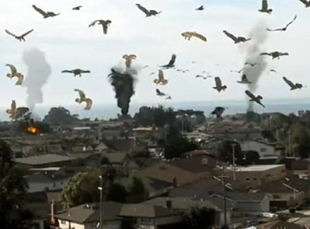 Posted by Vadim Rizov on
The internet's been abuzz about "Birdemic: Shock and Terror," which stands a fair chance of becoming to this decade what "The Room" was to the last — a film so cluelessly, inexplicably terrible that it attains cult status. In this way, James Nguyen's movie seems destined to go down in history alongside "Troll 2," "The Room" and the selected works of Edward D. Wood Jr. The difference this time around is the amount of self-flagellation involved.
Ed Wood — the patron saint of bad filmmakers — actually managed to complete 14 films and one TV pilot in his lifetime. These days, he's primarily remembered for "Glen or Glenda" and "Plan 9 From Outer Space" — not successful in their time, and not even during Wood's lifetime, but resurrected two years after his death with the publication of "The Golden Turkey Awards," a book written by Michael Medved (before his conservative-loon days) with his brother, which deemed "Plan 9" the worst film of all time. With Wood safely dead, cult worship could proceed without guilt. Wood's final years — mired in alcoholism, depression and financial trouble, culminating in a premature heart attack — could be safely set aside, along with his many other films not sufficiently terrible enough to be of interest.
As Jonathan Rosenbaum wrote, Tim Burton's delightful celebration of Ed Wood is scrupulously accurate about recreating the films themselves and willfully ignorant about many of the realities of his life — the alternative would be too depressing. This is no longer an option — when the objects of your cult celebration/derision are around to do the Q&A's, the response can get a lot more conflicted.
Hence the admission by The A.V. Club's Steve Heisler, in the middle of a long essay about the evening he spent hosting "The Room" auteur Tommy Wiseau, that realizing Wiseau made the film in earnest and now has reconciled himself to its camp value "was more than a little tragic to see."
Nguyen promoted his film at Sundance last year and is now blowing up midnight screenings, and so responses to him are more than a little ambivalent. Over at Slate, Jonah Weiner posits that the great bad films constitute inexplicable "formal assaults," and so audiences laugh at them because they're able to feel "superior to the rube who made it," but also as "a defense mechanism, a means to fend off the film's uncanny, invasive effects."
Over at The Awl, Melissa Lasky goes further, suggesting that it's ultimately "hard not to admire someone who can exist so entirely in his own universe, free from the persecution and perceived criticism of others." (At least, in relation to the internet.)
I'm not averse to the pleasures of the inexplicably terrible — I've seen Cam'Ron's "Killa Season" five times — but it's never quite a clean feeling. To celebrate Ed Wood's work is to ignore his minor real-life tragedy; today, since the relationship of cult filmmaker to adoring audience has been collapsed in time, inevitably it's a lot more ironic, weird, and more than a little guilt-ridden. These over-rationalizations of enjoyment show how complicated it's getting to fetishize the awful in the face of its creator.
[Photos: "Birdemic: Shock and Terror," Severin Films, 2008; "Plan 9 From Outer Space," Legend Films, 1959]