Rooting for the bull instead of the bullfighter.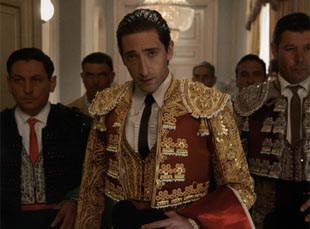 Posted by Vadim Rizov on
Friday sees the French release of "Manolete," in which Adrien Brody plays the famous matador whose death led General Francisco Franco to order three days of national mourning, complete with funeral dirges on the radio. The teaser trailer attempts to draw sensual parallels between Manolete's prowess in the ring and in the bedroom, which leads to a rather silly cut from Brody's hand on a bull's ass to Penelope Cruz's. But whatever works.
The problem, predictably, is the animal rights groups inevitably outraged that this ancient, cruel and so on practice is being valorized on-screen. It's "inadmissable," says the French anti-bullfighting group Alliance Anticorrida. "If they are properly informed, a great number of spectators will avoid this new film." It's unclear what information they might require — it's hard to be much clearer than killing a bull about what's happening — but there it is. (PETA, to their momentarily sane credit, is pleased the bullfighting scenes were shot without real animals. "Let's thank Lola Films for making a compassionate choice for bulls," they say.) Even if Manolete did get gored, that's apparently not enough revenge for the bulls.
As someone who neither has plans to ever attend a bullfight nor to picket one, I do find this a bit insane, but that's my problem. At least it's true that the organizations involved in this teapot-tempest seem interested in the ethics of treatment of animals, rather than their cute factor. (Europeans! They do not understand funny animal pictures.)
To see animal fetishization nicely mocked, you should turn to "Greenberg." As Christian Lorentzen points out over at N Plus One, a sub-plot involving taking care of a sick dog with an autoimmune disorder costs thousands of dollars, "an undigested reference to the sick cult of pet worship in America." Oh, it's digested alright — I don't doubt Baumbach knew what he was doing with that thread.
Throughout the course of "Greenberg," real people with real feelings are running around, hurting each other and getting hurt. But that is not as compelling to some people as the fact that OMG A DOG MIGHT DIE — as happened, say, to a friend who found himself despising everyone on-screen and rooting for the dog. Just because people aren't the nicest doesn't mean you should cheer only for the animal. But that seems to be Baumbach's point: are you really worried about that dog? Well, who's the asshole now? The audience member who values animal life more than human feelings, that's who.
If a matador getting killed by a bull at his biopic's (presumed) end isn't enough correction, certain priorities may need to be reevaluated. Otherwise one day you'll wake up and find yourself rooting for the bull — and that's just unfair.
[Photos: "Manolete," HandMade Films, 2007; "Greenberg," Focus Features, 2010]