Why it's a good thing "Anchorman 2" isn't happening.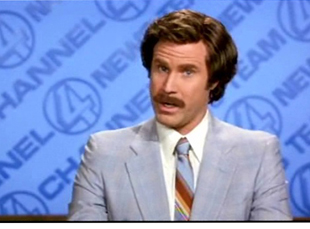 Posted by Vadim Rizov on
The Playlist reports that "Anchorman 2" is no longer happening (at least in its major studio form). They write that "we haven't been this bummed since the man punted Baxter," but I have to say the fact that this might not happen anytime soon is time for gladness all over the globe.
Sorry, but — "Anchorman" sucks. Sure, David O. Russell was one of its producer and Sight & Sound was all over it, and, viewed abstractly, "Anchorman" is brilliant. But I can't view it abstractly. The comedic concept introduced by "Anchornan" was considered by too many of my peers too important to miss: if anything is said loudly and pompously enough, it's automatically hilarious.
Will Ferrell has made talking loudly into its own kind of comedic asset, which is impressive, and it's no misjudgment to say "Anchorman" is one of the most influential comedies of the last decade.
What bothers me about "Anchorman" isn't that I don't find it funny (humor being so very subjective). What bugs me is the idea that any sufficiently dated culture is ready to be picked apart for mocking. For all Ferrell's ranting and raving, that's what "Anchorman" is really about: mediocrities from 30 years ago are automatic punchlines in and of themselves. We all have to live with the past, or at least its consequences. "Anchorman" gives us outdated hairstyles to mock but nothing beyond that. When comedy becomes nothing but a pastiche of the cheesier of trends past, when that's your best joke source, it's hard not to worry.
[Photos: "Anchorman: The Legend of Ron Burgundy," Dreamworks, 2004]