Chuck Norris needs to kick America's action film into shape.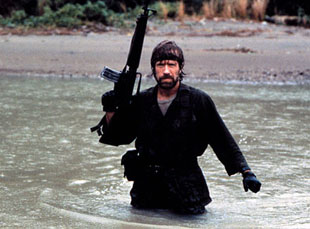 Posted by Vadim Rizov on
Tomorrow will kick off the inaugural edition of Actionfest — "the film festival with a body count," as it announces itself, complete with a mini Chuck Norris retrospective. It's billed as the first action film festival, which seems strange considering how many fests exist to serve niches — for documentaries, for genre fanboys, for those obsessed with broadly categorized "Asian films" (they don't mean Ozu) and so on. Perhaps only the action film could be both so ubiquitous and disreputably populist as to wait this long for its own festival.
Only the snottiest festivals positively exclude all action fare. Nearly all have at least a midnight section (which tends to be rowdier, and frequently better attended, than the smaller art films that get more highbrow love). And these days foreign action films are a celebrated staple of every fest, ever since the '80s when the West discovered that Hong Kong was producing remarkably inventive action movies that could be profitably championed and canonized. John Woo, Tsui Hark and selected others were invited to join the highbrow pantheon; subsequently, even the once disreputable likes of films produced by the Shaw Brothers have had (deserved) retrospectives and respect once the cheesy English dubs were taken off and some context was given.
Plus, it's always cool to champion action movies if they have social commentary to dig into — like the banlieue-burning "District B13" — or simply inform us that action filmmaking has finally taken root in another country, the reason for the lavish reception given to the Thai asskicker "Ong-Bak" a few years back. These are almost exclusively the only action movies to make it to the arthouse — and, attendantly, too often discouraging serious critical attention. Michael Mann may make artier films than anything Ed Burns has ever attempted, but he's still using a lot of expensive firepower to get there.
It is, nonetheless, a puzzling anomaly that the American action film — the biggest and baddest of them all, or at least the most routinely expensive — can't get even those token festival slots. Okay, it's not that puzzling: a big action movie needs a festival launch like a nuclear missile needs an automated squirt gun on top. Better question: where are the Americans whose artistic ambitions lie in the direction of making smart, low-budget action movies? It's a worthy formal challenge, after all.
If you look at the top of Actionfest's front page, there's a gallery of iconic action films, almost exclusively homegrown. However, if you look at the lineup, the overwhelming majority of the 22 new films being presented are from abroad — just five are American, including the latest from "Stone Cold" Steve Austin and "Undisputed III," each of which are going direct-to-DVD following their premieres in North Carolina. That's notable since DVD shelves have become the provenance of most low-budget American action films while international action films get the red carpet treatment from festivals around the world.
Earlier this year at Rotterdam, The Auteurs' Daniel Kasman ducked into a screening of Tsui Hark's third film and was blown away. "Being stilled all week by the measured, the thoughtful, I forgot that cinema can leave you breathless," he noted. "There's something about the culture of film festivals and the kinds of films it encourages that strenuously denies these kinds of films exist, are art." Indeed — though that seems to go double for American festival films, which could use a dose of something totally different.
Surely, this isn't just a case of elitist programmers shutting out genius works uniformly, nor could it be that no one in America is capable of making a better low-budget action movie than "El Mariachi." (It's not even that good.) If foreign filmmakers can wow the world with parkour, Muay Thai and wu xia, there have to be similarly resourceful filmmakers in the U.S. — they just might've needed to have their ass kicked first.
[Photos: "Braddock: Missing in Action III," MGM/UA Home Entertainment, 1988, which is showing at Actionfest; "District B13," Magnolia Pictures, 2004; "Undisputed III," New Line Home Video, 2010]