Why action movies are made for old people.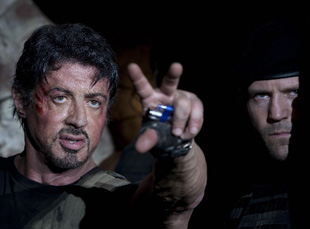 Posted by Vadim Rizov on
Without a doubt, the most exciting action movie of the summer is "The Expendables," the Stallone-Schwarzenegger-Willis-Lundgren-and-so-on return to real stunts and explosions. As Geoffrey Macnab notes in the Independent, "One of the ironies about the return of the action-man movie is that the same stars are still being press-ganged into service." They're '80s stars, now much older: Stallone broke his neck on set at the age of 63.
For Macnab, that's a liability: "For the revival of the action hero movie to last, some new recruits are badly needed… It's time for a fresh generation of Austrian bodybuilders and Belgian kick boxers to step forward or for actors like Sam Worthington and Jason Statham to pick up Arnie and Jean-Claude's mantles. Otherwise, audiences' interest may soon begin to wander."
But the casting of the elderly and grizzled as action stars is, in many way, an inspired decision. It's also, in one sense, a return to tradition. Macnab correctly identifies the '80s action movie as a descendant of a simplistic black-hate-vs.-white-hat mentality of the classic Western. And the best Westerns were nearly always the province of older guys. Forget John Wayne — when James Stewart was a sheriff in 1939's "Destry Rides Again" at all of 31 years of age, the only way to do it was to make him an eccentric, seemingly unthreatening guy. But in his 40s, he was a credible Western star for Anthony Mann, older and wearier. And at that same point in his life, Charles Bronson began transitioning from Western TV shows and movies towards the straight-up action film; his is the crossover lineage.
Action movies became the province of increasingly younger guys, but it took a while. Steven Seagal, Chuck Norris, Bruce Willis and Schwarzenegger were all in their 30s or early 40s when their action careers took off (Van Damme was a relatively young 28 when he had his first starring role in "Bloodsport"). But as action movies started replacing actual fighting skills with CGI and they could hire actors that were either cheaper or had more range, the old guys went direct to video and Nicolas Cage somehow became a Bruckheimer star. Then, in the last two years, "Taken" (starring a 56-year-old Liam Neeson) and "Gran Torino" (with septuagenarian Clint Eastwood) reinvigorated the old man "get off my lawn" genre. And audiences loved it.
This summer promises not only "The Expendables" but "Machete," starring the 65-year-old Danny Trejo. It all makes sense — it's where the genre began, and when the very idea of full-contact action filmmaking is anachronistic, these actors are there to remind us of that. Plus it's just more fun that way, a real assertion of self over mortality.
[Photos: "The Expendables," Lionsgate, 2010; "Grindhouse," The Weinstein Company, 2007]