2009 was an excellent year for film…just wait.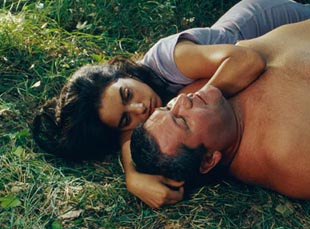 Posted by Vadim Rizov on
Let's try to simultaneously move forward and backwards here for a moment. On Thursday, Cannes will begin announcing its lineup, which will terminate the rampant speculation about which world-class auteurs will and won't be walking the Croisette and begin a new round of speculation about the films themselves — to be followed, subsequently, by an intense barrage of disparate, often disagreeing dispatches from the festival itself, and the slow, auto-drip downwards percolation of these films into smaller festivals and (for an increasingly lucky few) theatrical distribution, eventually trickling onto DVD and so forth.
Point being it's awfully hard to wrap your head around the global implications and trends of a year's worth of film within the time span of a year, even if you're one of the fortunate few who can afford to jaunt from fest to fest. There should be some kind of moratorium on wrapping up the year in film for at least half a year afterwards. Because only in the last few weeks was it revealed that 2009 was secretly an excellent year for film, no matter how much people complained.
The problem with this proposition is that you're going to have to agree with me about what constitutes excellence, and you're largely going to have to take my word for it; many of 2009's most exciting movies are decidedly not coming to a theater anytime soon, and maybe not even to a high-profile festival. And they are — and I say this as a fan — incredibly arty and not destined for any kind of high-profile success.
There were the consensus moments in blockbuster excellence enjoyed in 2009 ("Up" and, to a lesser extent, "Star Trek"), but there is more to enjoy — much more, in fact, than was initially evident. Exhibit A, if you please: Alain Guiraudie's "The King of Escape," which skulked out of a side-section of Cannes to less high-profile Stateside engagements (I saw it at Lincoln Center's "Rendez-Vous with French Cinema," the annual clearing house of French films that have evaded bigger U.S. premieres). In the genre of gay films, there's frequently less to commend than good intentions. Not so with "The King of Escape," Guiraudie's lightest and most accessible film yet: imagine David Lynch's personality-transference dream-dramas reconfigured as goofy, sexually explicit comedy and you'll only start to get the mindbending idea at play here.
"The King of Escape" is an excellent movie that didn't make the cut for David Hudson's provocative and chewy attempt at starting to collate the emerging cinematic trends of this and last year. There's a lot to wrap our head around in Hudson's piece: the disparate parallel tracks of austerely drab realism (brought to you by the heirs of the Dardenne brothers) and extreme provocation (Lars von Trier, Gasper Noé and so on), but lost in all this are some excellent movies that aren't getting discussed quite possibly because they don't fit any of the dominant narratives about where arthouse film is (or isn't) going at this moment.
Watching "The King of Escape" suggested one counter-narrative: ultra-formalistic gay arthouse filmmaking is coming into its own — a necessarily simplified reductive formula, but in the wake of Gus Van Sant's elegant "Last Days," filmmakers like Guiraudie and João Pedro Rodrigues (whose super-excellent transvestite drama "To Die Like A Man" rocked NYFF last year) have shifted the conversation from films that merely exist to push things forward to elegant, sexually aggressive films that can't be ignored.
Another possible narrative that is evolving from films made during 2009 is represented well by Aaron Katz's super-fun "Cold Weather" (still inexplicably without distribution, not that that should last long), which proves that you can make a seriously crowd-pleasing comedy without falling into the Sundance tropes of tweeness, color-coordinated quirk and indie-friendly soundtrack. Just as the Duplass brothers move ever closer to the mainstream with "Cyrus," Katz's latest demonstrates that crowd-pleasing need no longer be synonymous with cynical pandering. It shouldn't hurt that ground zero for these types of films — Sundance (no matter what its self-aggrandizing airs) — is once again showcasing movies of interest as long as you're ready to do some heavy sifting.
Because everyone seemed to have such a good time in 2007, and the following few years have been filled with economic despair for all and a great deal of navel-gazing about all matters cinematic — per Wallace Stevens, everyone's imagination seemingly staring at the end of an era — it's always tempting to draw conclusions about Where Film Is as quickly as possible, erring on the side of doom and gloom. And while it's useful to slot films in taxonomical ways, always with the temptation of crowning something a trend as quickly as possible, it's even more important to sit down, shut up and wait for a while. The movies'll keep.
[Photos: "The King of Escape," Les Films du Losange, 2009; "Cold Weather," Parts and Weather, 2010.]