20 years old, the music of "Twin Peaks."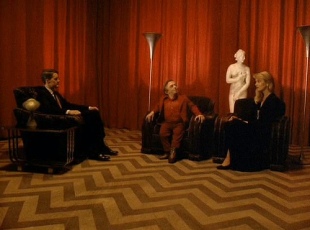 Posted by Brandon Kim on
Twenty years ago this month, the phenomenon that was "Twin Peaks" aired and changed the way a generation viewed owls, Tibetan deductive methods and colorful drapery. A creation of David Lynch and Mark Frost, the show was a revolution in TV, devoid of formulaic plots and cookie cutter characters. The music too, was unusual and of a quality unmatched by even most feature films – which the show would eventually evolve (or devolve) into with "Twin Peaks: Fire Walk with Me."
David Lynch go-to guy, Angelo Badalamenti, composed most of the now, unforgettable music on an old Fender Rhodes piano. Of course, Lynch was instrumental in the conception of the pieces, setting the thick mood for Badalamenti. He would literally sit next to the composer talking softly about what he envisioned for the score. As if on a dream quest he transported them into a dark forest at night. Badalamenti began to play a few haunting notes and they walked through the woods with a soft wind blowing through Sycamore trees. Lynch saw the moon, heard the hoot of an owl, and the piano responded.
Then there was girl in the distance. A sad girl named Laura Palmer came toward them through the trees and the piano changed to suit her, no longer haunting, but sad notes building into a beautiful climax. The composition soared just for a moment. But the sad girl didn't make it all the way to them, instead she began to leave, and falling, falling, disappeared back into the trees.
That's the sound of "Twin Peaks" and pretty much how those two legends created the first song for the show. Badalamenti himself says as much.
I could live between those opening and closing credits.