Slavoj Žižek, the academic Armond White.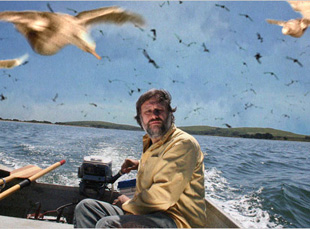 Posted by Vadim Rizov on
When I first arrived at NYU six years ago, one of the friendly student paper editors tried to turn me on to philosopher and critical theorist Slavoj Žižek with the promise that he was "the academic Chuck Klosterman."
This has turned out to be unnerving and sometimes annoyingly true. Žižek and Klosterman are both ubiquitous and oddly self-parodying, and their rates of production are mind-numbing. I wonder how academic types who never got over the heady '60s and '70s — turmoil on the campus! adoring students changing their lives with Foucault! — feel about Žižek, who (like him or not) is the closest thing these days to an academic rock star.
Undeniably charismatic and intelligent — with a voluble speaking manner and Cold War-villain accent — Žižek's excelled at the art of packaging dense academese (he can explain Hegel clearly in about ten minutes, which is a special talent) and sexing it up though his infectious enthusiasm. He also understands the benefits of self-caricature, and that centering his discussions around Big Event Movies like "300" and "United 93" will get him press and followers in a way that no mere Lacanian discussion ever could.
There's a tense discussion going on right now about where the future of "serious film criticism" will land. Will publications stop hemorrhaging money and restore word counts, or will everyone who wants to write at length and in depth about film be forced to retreat to academia (itself contracting and shrinking)? In the middle of it all stands Žižek, to be reckoned with whether you like it or not.
To me he plays a bit like an academic Armond White. His latest provocation, for example, is a incoherent rant in the New Stateman about "Avatar," which — predictably enough — he despises because "its full trust in fantasy, and its story of a white man marrying the aboriginal princess and becoming king, make it ideologically a rather conservative, old-fashioned film. Its technical brilliance serves to cover up this basic conservatism."
That's not so far off from the complaints that have surrounded the movie for (jeez) half a year now — it just has a veneer of complexity on top, with terms like "3-D hyperreaity" and allusions to every Baudrillardian's favorite film, "The Matrix," which will surely one day be its own "field of study" or "discipline."
It's not that I've never learned anything by listening to Žižek, it's just that there's a real danger when the public face of academic film criticism becomes a guy whose persona is every bit as important as the actual content of his dispatches. Isn't that the opposite of what academic film criticism should do?
[Photos: "The Pervert's Guide To Cinema," Microcinema International, 2006; "300," Warner Bros., 2006]