The two Americas of "World's Largest" and "Citizen Architect."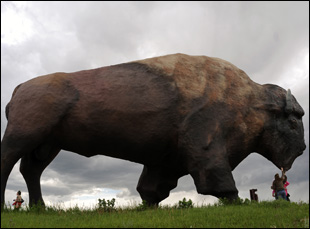 Posted by Stephen Saito on
Reviewed at the 2010 SXSW Film Festival.
America may be under siege by killer bees in Texas and giant buffaloes in the middle of North Dakota, if "World's Largest" is to be believed. The people in small towns are getting stung and stomped not by creatures' tails and hooves, but rather by the hope that building large fiberglass monuments in their honor will lure tourists to their tiny burg off the side of the highway. Of course, roadside attractions have been a staple of American pop culture for well over half a century and as co-directors Amy Elliott and Elizabeth Donius exhaustively and sometimes exhaustingly demonstrate, what started as a nifty gimmick in rural areas to benefit the chamber of commerce has now become a last-ditch effort in some communities to stop the bleeding of a bad economy and the urban flight of younger generations.
Although the film breathlessly criss-crosses the country from an oversized Boll Weevil in Alabama to the Minnesota Paul Bunyan statues immortalized in "Fargo," "World's Largest" finds a home in Soap Lake, WA, where there is a battle brewing over the town's plans to build a 65-ft. tall lava lamp downtown. Nevermind that Soap Lake has a natural claim to fame — the world's biggest natural mineral lake — or the health hazard for potential heatstroke posed by the requisite 65,000 gallons of glowing goo, as one angry resident complains; with nothing else on the horizon, some in Soap Lake print up pamphlets with "Lava Love in the Sun" and T-shirts to sell, even though the town can't afford the lamp, leading one pro-lava lamper to muse, "You don't want to throw the word 'hoax' out there [with regards to the unbuilt lamp], but you do start to wonder."
Unfortunately, the hoax appears to not affect the disappointed few who roll into Soap Lake expecting to bask in the warmth of a gargantuan lava lamp, but rather the mostly lower-class and largely elderly communities of Soap Lakes around the U.S. that delude themselves into believing that they're one extravagant tourist trap away from reenergizing their town. Elliott and Donius travel near and far to places where Elks Clubs and VFWs still reign supreme and parades down Main Street require mandatory attendance, yet the local businesses have closed their doors and all that's left in their wake is a huge Swedish coffee pot. (Actually, two towns came up with that one.)
While eulogizing a bygone era when Americans could afford such largesse and there was more interest in pulling off I-95 to take a picture with a giant frying pan, the film is far from the downer I may be making it sound like, simultaneously serving as a celebration of these man-made wonders and taking the temperature of communities that might not be on the map without them. Elliott and Donius have many monuments to get through and the film's breakneck pace occasionally turns the towns and their local dignitaries into a bit of a blur, though that may be the point — places that once were vibrant and had an identity are now desperately trying to find one. "World's Largest," on the other hand, has no problem being vibrant or with its identity, since it's so thorough.
If one is looking for a rosier outlook for American ingenuity and cultural uplift through architecture at SXSW, you couldn't be more energized by any film than Sam Wainwright-Douglas' "Citizen Architect." Given its running time of a mere hour, one is well-aware that the doc is destined for public television, but that would be doing a disservice to the big-screen worthy architecture on display from the Rural Studio, an undergraduate program at Auburn University that builds astoundingly inventive housing and buildings for the underprivileged in Hale County, Alabama. Utilizing materials ranging from scrap metal to rubber tires (as seen in the memorable Yancel Tire Chapel), Auburn's architectural students not only get an education in designing structures but forging relationships with their clientele who are less concerned with buttresses than simply having shelter.
The program was the brainchild of Samuel "Sambo" Mockbee, an Auburn professor, and even though he passed away from leukemia in 2001, his influence for cleverly designed, low-cost housing has extended to others around the world. Just for good measure, Douglas interviews Yale architecture professor Peter Eisenman to balance out the warm, humanitarian vibe of the film, saying such things as ""I've never seen any architecture that helps to make a better world; as a matter of fact, I think architecture creates problems rather than solves problems." But Eisenman has obviously never met a Hale County resident simply known as Music Man, the recipient of a small but beautifully built home from the class, the construction of which serves as the backdrop for the film. If there's a downside to the doc, it's that we don't learn more about Mockbee, who appears to be a colorful character that almost comes off as a deity here (the director is his son-in-law), but in fact what the Rural Studio does is a godsend and "Citizen Architect" is nearly as elegant as the architecture it presents.
"World's Largest" is currently without U.S. distribution; "Citizen Architect: Samuel Mockbee and the Spirit of the Rural Studio" will air this summer on PBS after its festival run.
[Photos: "World's Largest," 2010; "Citizen Architect," Big Beard Films, 2010]