White vs. Brown; or why Armond would be banned from reviewing "Greenberg."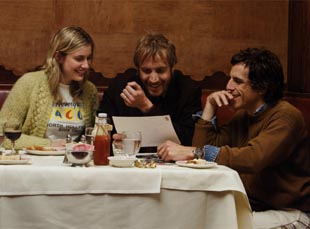 Posted by Vadim Rizov on
If there were a Gawker-type site for film critic gossip, the only thing that would keep it from being horrifically dull would be the antics of the NY Press' splenetically quotable Armond White, who always seems to be ruffling feathers. The last time we checked in on Mr. White, he was trolling "District 9" lovers. This new story, though, is more interesting than the usual Armond vs. Rotten Tomatoes sparring. There's a history.
White's reportedly been banned from attending all press screenings of "Greenberg" by the personal fiat of writer/director Noah Baumbach and producer Scott Rudin. I was among those who got an email from the pseudonymous "John Doe," who had some very nasty things to say about the matter.
"Some of you may think that Armond is a pretentious pompous fool who has no idea what he's talking about, but he is still a fellow film critic," the email notes. "Publicists are akin to Nazis." (The analogy is extended: apparently in this scenario we're Armenians caught in a genocide.) It suggests that "Greenberg" not be reviewed, Focus Features president James Schamus be emailed (Now I have his email address! Sorry, sir.) and Scott Rudin's work be review blacklisted. "Hail the First Amendment. Fuck the talentless hacks" is the sign-off.
I'm sure that for most publicists, not having to screen any of their movies for review and instead forcing everyone to do fawning "star profiles" and interviews would be a dream come true, so I wonder how a review blacklist would work. But for those of you who don't care about the rabbit-hole politics of this kind of thing (that should be everyone, really), there's a more interesting extended history of animosity here.
Back in the '80s, Noah Baumbach's mother Georgia Brown was a Village Voice film critic; she and White never got along, culminating — among, I assume, other minor skirmishes lost to history — with an ugly appearance on "The Leonard Lopate Show" in which White accused Brown of racism, Brown demanding proof of said racism, and White responding that it wasn't his job to tell her about her sins.
The sins of the mother, though, have been passed down to Baumbach's films — White's reviews of them aren't analyses so much as pure character assassination. Regarding "The Squid And The Whale," he wrote that the film "inadvertently reveals how smugness gets transmitted from the dinner table to the pages of the New Yorker." Then he accused New York reviewers of falling for the "film and literary references" and admiring "snide and obtuse behavior." The headline of his "Margot At The Wedding" piece is "Self-Punishment," the review itself little more than raving — the movies are "repellent" both in their visuals and personalities ("New York's most obnoxious people").
The subtext, as always, is White's history with Brown — briefly but impersonally alluded to in the "Squid" write-up as "an undistinguished film critic but a former Voice employee," which is about as inside-baseball and, uh, obnoxiously New Yorker-y as you could get. It's safe to say more people care about "The Squid And The Whale" than a 20-year-old New York film critic feud, much less whether or not movies are apparently solely made for a NYC elitist circle jerk. For good measure, in an interview he declared that Baumbach (sight unseen!) is obviously an "asshole," which he can tell from his work. ("I don't need to meet him to know that. Better than meeting him, I've seen his movies." I can tell you right now, this is nonsense.)
So Baumbach and Rudin have barred him from seeing "Greenberg." Normally, I'd be up in arms, but for these three point. Normally, writing those kinds of things gets you close to a restraining order. Given this past history, it's not unlikely that White's review wasn't pre-composed, with arguments waiting to be fleshed out with new examples. And, frankly, this is a major conflict of interest — it's not hard to figure out that the anger White has at Baumbach's mother has trickled down to his films. There's no way he should've reviewed any of those movies.
For once: the publicists are right. Though I wish they'd invited me. I actually like Baumbach. Oh well.
[Photos: "Greenberg," Focus Features, 2010; "Margot At The Wedding," Paramount Vantage, 2007]