The U.N. wants to be in pictures.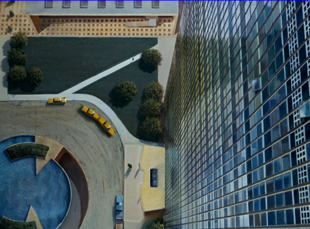 Posted by Vadim Rizov on
United Nations Secretary-General Ban Ki-Moon is in Los Angeles this week, wooing Hollywood and trying to get creative types to, in his words, "have the U.N. message coursing continually, and spreading out continuously to the whole world."
To this end, he's been meeting with some of the politically conscious luminaries of the film world (Demi Moore! "The Last Samurai" director Ed Zwick!) and had a day-long series of panels yesterday, one highlight of which was "Hotel Rwanda" director Terry George.
Looking to "encourage film and television story lines about issues high on the U.N. agenda, such as climate change and violence against women" is all well and good, but the U.N. itself could certainly use some refurbishing, as far as its image on film goes.
Hollywood and the U.N. go way back — former child star Shirley Temple was a U.N. ambassador (appointed by Nixon!), and these days Angelina Jolie's role as a Goodwill Ambassador (and attendant penchant for adoptions) is a well-known source of jokes for lazy late-night hosts. In recent years, notable UN-related projects have included Abbas Kiarostami's "ABC Africa" — a DV documentary of the Uganda Women's Effort to Save Orphans' efforts and a film admired by many, but one which didn't exactly set the world on fire.
The most significant recent effort was the late Sydney Pollack's unfortunate last film "The Interpreter," in which, for the first time, cameras were admitted into the United Nations Headquarters, only to serve a wan assassination/conspiracy thing involving the fictional country of Maboto and Nicole Kidman looking more starched than usual. Kofi Annan said that the film was intended "to do something dignified, something that is honest and reflects the work that this Organization does." Which apparently means the United Nations is the single dullest place in the entire world.
The U.N. building — tall, looming and oddly ominous — is the organization's biggest legacy on film (think of "North By Northwest"'s disorienting overhead view of Cary Grant escaping his pursuers). Either that, or ineffectuality — what, pray tell, was George doing at a U.N. panel when "Hotel Rwanda" makes a case for the UN as well-meaning but fundamentally hamstrung when it comes to actual on-the-ground intervention? The goals here seem a little fuzzy. If "The Interpreter" is the shining example of the U.N. on screen so far, then uh…yeah. Things aren't looking good.
[Photos: "North by Northwest," MGM, 1959; "The Interpreter," Universal, 2005]