"Twin Peaks" — less influential than desired.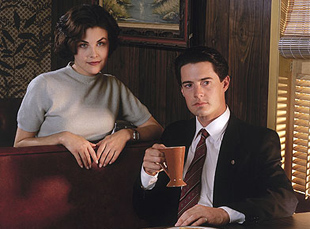 Posted by Vadim Rizov on
The Guardian's got an article full of reflections from an even cross-section of the "Twin Peaks" cast twenty years on. It's nice to see frontman Kyle MacLachlan placed on on the same level as the invaluably squeaky-voiced Kimmy Robertson. If "The Wire" is the greatest consistent TV show ever made, "Twin Peaks" has some of the greatest episodes ever made.
But it's Lara Flynn Boyle, of all people, who gets to the heart of the matter: "At the Emmys every year they show clips of shows that are well remembered. They never show clips of 'Twin Peaks'!" Spot on. For all the talk of how "Twin Peaks" paved the way for weirder and wilder TV — by which is generally meant "Northern Exposure," "The X-Files," "Lost," "Carnivale" and not much else — its legacy mostly lies in the fact that the show is as a significant part of David Lynch's work than anything else (even if David Chase claims it as an influence on "The Sopranos"), something no one else from film has pulled off on TV (yet, anyway, and I won't accept any arguments on behalf of "Miami Vice").
The tell-tale fact here would be trying to envision debuting "Twin Peaks" — legendary influence and all — on network TV now. It's hard to do. The influential stuff is mostly macro — juggling a lot of characters, slowly expanding plotlines where the ostensible point is the red herring ("Lost," again).
None of which has much to do with what makes "Twin Peaks" special. That would be Lynch; specifically, the just-this-side-of-soporific pacing and feeling for the intuitive rather than rational scare. More than any of its successors, "Twin Peaks" wasn't interested in being coherent or even offering you much of an in — from the moment Laura Palmer's body is found wrapped in plastic, there's nothing to grab onto, no sense of an outside reality that can be referred to.
It is, in short, the most undiluted expression of a known cinematic director on TV; "Alfred Hitchcock Presents" had nothing on "Peaks" — and if you don't agree, try to imagine Hitchcock (by no means a stupid businessman) trying to load the equivalent of, say, "Marnie" or "The Birds" onto the show. It'd be impossible and alienating. "Twin Peaks" came at a weird moment: there's no nudity, but the violence is at least as disturbing as anything in "Blue Velvet."
But it's mostly about that pace: that slow crawl and the unmediated gaps between goofy comedy and intense atmosphere. Influence is sometimes a matter of all the wrong things. In the case of "Twin Peaks," the things that made the show really great were, in fact, the things that were characteristic of Lynch, not the ensemble or the prolonged narrative or whatever. The best moments stand alone in time: they are "Lynchian," a tone that's unreplicable without his subconscious. The rest is just a superficial gloss.
(Unless we're talking about Nike's "Twin Peaks" inspired sneakers. That's just as strange, really.)
[Photos: "Twin Peaks," Paramount Home Entertainment, 1990-91]