When it comes to movies, TV is still all thumbs.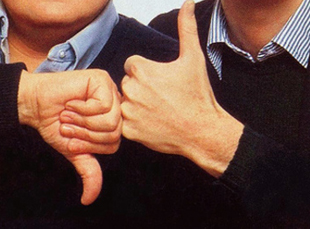 Posted by Vadim Rizov on
Lord David Puttnam, president of the British Film Distributors' Association and former chief of Columbia Pictures, gave a long speech to the BFDA recently which was largely intended to discuss ways of combating digital piracy (banning camcorders in theaters, which is somehow still not illegal there). Mostly, though, he wondered why there weren't any TV shows that discussed film in a serious manner. "Where on earth are the edgy magazine shows or the contemporary panel shows or the audience participation shows themed to the movies?" he asked. "The mass public interest in films – enjoyed by millions of people every week – is all but ignored in the current output of our national broadcasters."
Apparently, the problem is that some producers demand fees for clips — a problem, it's safe to say, most American TV stations don't run into. Pretty much any movie has at least a small electronic press kit of 30-second snippets they'd be thrilled to have you show on the local news. Rare is the local news broadcast that doesn't have a token "entertainment" spot on the show, at least on Fridays, when the week's major releases are presented — usually with neutral/optimistic synopses by way of an anchor or entertainment reporter, or in some places still, an on-air movie critic.
I've never really understood who benefits from this arrangement: these days, someone at the TV station will talk over the trailer in favor of running individual scenes from the film and the brief mention will usually be concerned more with box office potential than the film's actual content. In fact, since the demise of the Roger Ebert-co-hosted "At the Movies" (an anomaly, not an outlier), you could say American TV has the same problem as British TV for different reasons. But I can't imagine why things would be any different if British shows could get EPKs.
People seem very impatient with the idea of watching others talk about movies; we like stars, not roundtable discussions of what they're starring in. (I don't even know what an "audience participation" show would look like. Maybe a "Be Kind Rewind" spinoff where people remake the week's movies?) With advertising prevalent on TV already — with most news segments simply regurgitating those — how could you have a genuinely original show on TV about movies? It'd require a whole new way of thinking, but the Internet already has that. But it's a nice thought.
[Photos: "At the Movies," Disney-ABC, 1986-present; "Be Kind Rewind," New Line Cinema, 2008]