"Tron Legacy," new trailer, screenshots, young Bridges.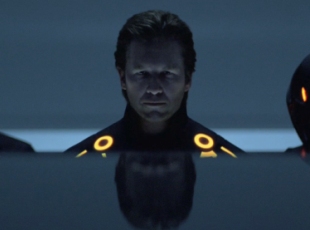 Posted by Brandon Kim on
When my initial astonishment over the new "Tron Legacy" trailer faded, I decided I liked the older Comic-Con one better, even though it was supposedly just test footage. The music score is much better, and importantly, absent until the right moment. There's more mystique to it, it tantalizes more, even though it's actually 39 seconds longer.
It's a better trailer, but that doesn't diminish the excitement of seeing young Jeff Bridges all polished up here. He was a bit too plastic in the old footage reprising the program/character known as Clu.
There are some extremely tough shots here, especially of Clu and his crew, Olivia Wilde as Quorra (on the Baroque Master Control era? sofa), the Recognizer (floating patrol vehicle) and of course, more light cycles.
I'm not so sure about the heavily blown out peek at Michael Sheen. I imagine that the score, by Daft Punk, will make or break that character as evidenced by what appears to be his role as Ziggy Stardust. It's great to see Bruce Boxleitner again, who played human Alan Bradley and you'll recall, main man,Tron. I trust he gets the CGI young treatment for a reprise of that roll as well but I have not actually read hard confirmation of that.
Cinema Blend has a ton of screenshots.
Previous Tron Legacy stuff.