Great moments in trailer failure: "After.Life."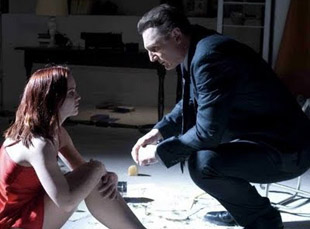 Posted by Vadim Rizov on
If your trailer can't win a multiplex audience over — if, in fact, it incites active derision — you're in serious trouble. Such proved to be the case this weekend with "After.Life," the upcoming, oddly punctuated Christina Ricci-Liam Neeson horror movie (or whatever it actually is — it's hard to tell). The "After.Life" trailer was running in front of "Cop Out," not a hard crowd to win over — no one who shows up for "Cop Out," myself included, is setting the bar terribly high. If you ever want to assess how a movie is getting marketed, you could do a lot worse than simply sit in a darkened theater and listen to the audible reactions. In an era of widespread multiplex rudeness, you don't have to do much to make people respond.
["Cop Out," for the record, was much funnier than I'd expected — despite the dismal reviews, there's a reason the movie performed respectably in the box office.]
Though it's unwise to extrapolate too much from trailers, which tend to err on the side of the actively deceptive to pack in audiences, what's amazing in the case of "After.Life" is how apparent it is that there isn't enough footage to deceive. All you've got is that Christina Ricci may or may not be dead, Liam Neeson may or may not be a creep and Justin Long is without question an ineffectual boyfriend (between this and "Drag Me To Hell," Long's career as the disposable horror boyfriend is really taking off).
In the past few months, I've heard a few trailer reactions that stood out — the woman who said loudly about the "When In Rome" trailer (one of the dumber high-concept synopses of late, one that seemed to actively assume everyone watching is an idiot) that "that looks good." More presciently, there were the sounds of active confusion over the "Nine" trailer. It's like numbers polling for amateurs.
The bar is not very high for horror trailers: all you really need to do is keep the lights down, the cleavage up and throw in one last shock cut before you fade out, and you're pretty much on your way to a $15 million weekend. (The audience for baseline-competent horror movies is nothing if not consistent and easy to keep coming back to the well.) So why do audiences (or at least my audience — this is obviously not a scientific survey) find it more risible than usual?
The main problem with the "After.Life" trailer is that there's no big scare. It's unusually muddled, starting in the middle, flashing back to what happens before Ricci's accident and then implying Liam Neeson will be defeated — yet somehow managing to deliver no tension. There's also something inherently ridiculous about the whole "are they did or just being deceived" premise — metaphysical horror movies, as a rule, are not a terribly popular genre. No matter how off-the-beaten-path your film is, it helps to sell it like any other.
Saddest of all — this trailer can't get as much of a buzz out of the audience as freakin' "The Sorcerer's Apprentice." (It's a woeful day indeed when an old Disney cartoon chestnut is reappropriated as some kind of chasing-the-"Harry Potter"-gold vehicle. Why'd they even need the name?)
Here it is. What happened, Ricci/Neeson?
[Photos: "After.Life," Anchor Bay, 2009; "The Sorcerer's Apprentice," Disney, 2010]