The Mayans predicted it: "Titanic" in 3D.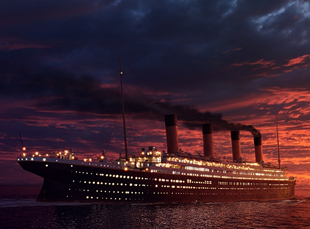 Posted by Vadim Rizov on
For his next trick, James Cameron intends to grace us with a 3D version of "Titanic." He's aiming for 2012, which he says is both a realistic technical target and the 100th anniversary of the actual Titanic's sinking.
Cameron seems to have missed a self-aggrandizing trick for once by failing to mention the surprisingly large numbers of people who sincerely believe the Mayans were right and the world will end in 2012 (an idea so surprisingly robust NASA had to issue a statement debunking it). "Titanic" is nothing if not an elegant apocalypse: the destruction of the ship has real heft to it, a bravura extended sequence in which Cameron flexing his action muscles towards a darker purpose.
Despite all those stupid CGI extras, much of "Titanic" has a compelling verisimilitude — few high-grossing blockbusters have ever looked so real. Cameron basically blew up the blockbuster paradigm he helped solidify with "Terminator 2" — something he's also done with "Avatar," which has to be one of the most long and indulgent movies to inspire conversations among complete strangers.
Will people go crazy for "Titanic" all over again? When the film hit theaters in 1997, it was a rare national collective moviegoing moment, and I assume most people have good memories of whenever they saw it (I did). The unusual set-piece nature of the action stuff made it hard to rip off, which will also prove true with "Avatar."
But it's fashionable now to hate on the film and call it silly (it's really not bad at all), so you have to wonder how the re-release will play. James Cameron, for whatever reason, draws even more ire for his ego than George Lucas. A "Titanic" victory lap will probably launch more exclamation points and angry, all-caps posts than you've ever seen. Angry online types — you've got two years to prep.
[Photos: "Titanic," Fox, 1997; "Ghosts of the Abyss," Disney, 2003]