The Phenomenal Handclap Band, "Baby."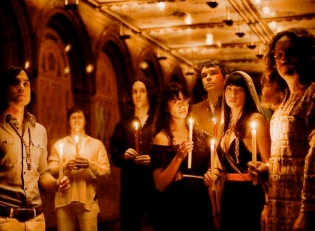 Posted by Brandon Kim on
Have you dug the Phenomenal Handclap Band? If the answer is no, well, it'd be a lot cooler if you did. The eight piece from NYC is touring Europe right now, but before they left they took a trip upstate, somewhere woodsy and cut this video with British director Stephen Agnew.
[The Phenomenal Handclap Band getting all D&D somewhere]
I've not spent much time with the full album, but this song "Baby" is a deep winner. Blam horns, a dope beat, supple vox and psychedelic mood. The video is a strange distillation of the song, as if some 60's soul spirit was bubbling up through a 70's jam group… and then murdered them all to sweet nothings.
Apparently inspired by analog good times with your bff's on one hand, and the blood fests of Italian horror director, Dario Argento on the other – this viddy delivers a potent potion of all that is timelessly hip, with a macabre twist.
The Phenomenal Handclap Band is on Brooklyn's Friendly Fire Recordings.
Happy Birthday/deathday Daniel!