"The Good Heart" and a mind for mischief.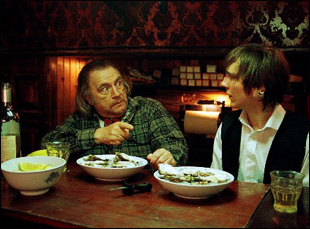 Posted by Stephen Saito on
Reviewed at the 2010 SXSW Film Festival.
The last time Paul Dano and Brian Cox shared the screen, it was for 2000's "L.I.E.," a film that not only used its Long Island setting for its title, but also employed the desperation of the suburbs and its eternally gray skies as integral story elements. With "The Good Heart," Dano and Cox finally make it into the city — for a comedy, no less — but while the shabby little piece of real estate that Cox's speakeasy occupies is in the 212 area code, Icelandic director Dagur Kári's English-language debut is a Scandinavian import all the way.
In that sense, "The Good Heart" is slightly jarring initially for an American audience — there are recognizable actors in the leads, beautifully shot exteriors of Manhattan and a narrative rhythm that is as bullish on forward progress as a Michael Bay flick. And yet it's got much more in common with the cinema of Aki Kaurismäki ("The Man Without a Past") and Bent Hamer ("O'Horten"), full of deadpan humor, abrupt cuts and… a duck, which we're told is to be served up for dinner eventually, but whose primary function is to offer Kári an extra bit of esoteric set dressing. This may sound like a criticism, it isn't, but if you're one who doesn't enjoy duck on the menu (or off, in this case), be forewarned.
Still, "The Good Heart"'s marriage of the two cultures bears quite a bit of fruit, beginning with the pairing of the pallid and pious Dano as a homeless man named Lucas and the brusque Cox as a barkeep named Jacques. The two first meet as bedmates in a hospital ward. It isn't Jacques' first visit, nor has he endeared himself to the hospital staff that wishes his fallible ticker would just give out and who tell him as much. Lucas, on the other hand, is admitted off the streets with a nasty scar on his left arm and released only after the nurses take up a collection for him (which he promptly gives away to others living on the street.) Neither can continue living the way they do, and Jacques takes the initiative to become a Henry Higgins-type patron to Lucas' unpolished gentleman, believing that Lucas could inherit the bar as Jacques has alienated everyone ever close to him except for a coffee grower in Martinique. (He even plans for Lucas to marry the coffee grower's nine-year-old daughter, "when she's a little older.")
What follows is a Laurel and Hardy routine as imagined by Samuel Beckett. Jacques' bar is a way station for lost souls of all stripes — an espresso-drinking mute who strongly believes in routine, a trashman who aspires to collect garbage in space, Jules Verne's great-great grandson who has a case of writer's block, and a frizzy-haired barfly with a strong resemblance to Julian Schnabel who picks fights with whatever eclectic company strides up to the stool beside him. Cox has no intention of changing the clientele — he says grimly, "we don't do walk-ins" after pouring a stranger a ketchup-heavy Bloody Mary. And it's no place for women either, which poses the film's main complication when April (Islid Le Besco), a wet and sobbing French flight attendant, shuffles into the place asking for a place to stay.
Needless to say, Cox's killjoy is none too thrilled with this turn of events and vies for Lucas' attention as his protégé begins to drift away with April, and the narrative finally starts to take shape. While serviceable in that regard in spite of a questionable third act twist, "The Good Heart" works best when Dano and Cox are allowed to play off each other, where Cox's obvious affection for his "L.I.E." co-star makes his character's relationship to Lucas understandable and finds the truth in a film where observations about human nature are abound but real humanity is elusive.
"The Good Heart" will open in New York on April 30th before expanding on May 14th.
[Photos: Brian Cox and Paul Dano in "The Good Heart," Magnolia Pictures, 2010]