"The Ghost Writer," McGregor, Desplat, Polanski.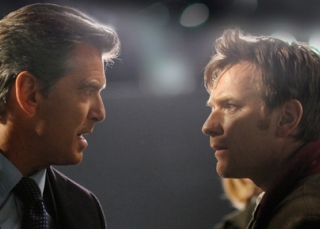 Posted by Brandon Kim on
Expectations are as important as any other factor in whether I will enjoy a film or not. I think this holds true for most. When we expect the careful craft and many-layered mystery of film like "Chinatown" when going into a film like "The Ninth Gate," we tend to be disappointed. I adore both of those films by the rogue director, Roman Polanski, but it was only after I cleared my palate and watched "The Ninth Gate" for what it was (a comical fantasy-mystery, not a serious thriller-mystery) that I saw it's merits.
[Pierce Brosnan and Ewan McGregor in "The Ghost Writer," Summit Entertainment]
"The Ghost Writer" has all the usual pros and cons of expectation: marketing efforts (which can lead you completely astray), prejudice of well known actors, the director's prior films, but also the added baggage of the director himself. He was even in the news again in September when he was arrested by Swiss police while trying to attend the Zurich Film Festival (at the bequest of US authorities) for his 1977 crime.
To review, Polanski, the genius who gave us "Rosemary's Baby," "Chinatown," and "The Pianist," escaped the Nazi established, Kraków Jewish ghetto in 1943 and managed to survive the holocaust, though his mother was killed in Auschwitz. He moved to the US, began making films, and in 1969 the Manson family butchered his pregnant wife, Sharon Tate, to death. Then, he drugged and had sex with a 13 year old girl at Jack Nicholson's house and fled to France to avoid harsh jail time.
Later, he settled with the girl (monetarily) who, now a married woman wanting to move on, has since publicly requested for his charges to be dropped. Back to the present Zurich debacle, Polanski was released by the Swiss on $4.5 million bail though he is on house arrest and still "pending extradition" to the United States for trial.
It's amazing you can make films under such conditions. And gladly, due to a brain fart, though I knew a favorite composer Alexandre Desplat ("A Prophet," "The Beat That My Heart Skipped") was scoring, and that Ewan McGregor was staring, I'd forgotten all about "The Ghost Writer" being a Polanski film until half way through when the signs had become too glaring for even a total flake to ignore.
Not only stylistically, but as Manohla Darghis points out in her NY Times review, "Fingers are pointed, though sometimes it seems not only at Lang but also at Mr. Polanski, who is under house arrest in Switzerland awaiting word on whether he will be sent back to Los Angeles to face sentencing…. Certainly the shots of Lang's detractors, with their furiously distorted faces and accusatory placards ("guilty," "wanted"), gives the film an extra-cinematic tang, though as with so much here, it's also evident that Mr. Polanski is having his fun."
Surely he is having his fun. And still superbly directing actors too. Ewan McGregor is fine as ever as the patsy ghost writer. Tom Wilkinson's Paul Emmett is awkwardly menacing observing his professorial niceties, anxious fingers tapping and lying like a Lord. Pierce Brosnan shines in subtle maneuvers, his British accent cranked up like a caricature for the camera's, what a fraud, such an American puppet. A shot of Kim Cattrall's ass, then a leering Brosnan, legs spread on the couch, celery stalk firmly planted in his fresh squeezed juice is brilliant, his smile in that moment worth a thousand words out of the memoirs the ghost writer plans to pen for him.
From the night time opening, with Desplat's high strung orchestration leading into the mystery of a murder at sea, it was clear to me I would enjoy this film. Though, it could benefit from a good deal of trimming, and I didn't come in with all those decades of expectation.
Check out the IFC interview with Ewan McGregor where he talks about Polanski's perfectionism, how corrupt modern politics are, and he clears the record on a comment he made about his penis.