Taking on the sacred films of an '80s childhood.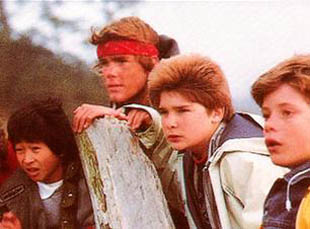 Posted by Vadim Rizov on
A Melbourne man named Luke Ryan has taken it upon himself to write a list of the"Top ten films that you shouldn't rewatch as an adult."
This is a brave thing to do, given that a) his title isn't a bait-and-switch b) his titles include "Labyrinth," "The Dark Crystal," "The Goonies," "Spaceballs" and "Teenage Mutant Ninja Turtles II: The Secret of the Ooze." In some parts of the country, and many more parts of the internet, denouncing those movies could get you stoned to death. Setting aside Ryan's gratuitous slur of the most-awesome "Gremlins" (everyone's entitled to their opinion), his list is unusually idiosyncratic. Most lists are designed to flatter readers' familiarity with the titles involved, on the same principle that tells most reasonably intelligent people who know how to play guitar that they should pander to people their age. He takes the opposite tack, insulting the tastes of most who read him.
Lists are like pulling out a guitar for a singalong. For '70s kids, play "Cat's Cradle" and neutered Zeppelin; for the '90s, you can never go wrong with Weezer and Blink-182. Similarly, most lists stick to a pre-selected pool of movies, infinitely reshuffled: to sing, once more, the praises of "Monty Python and the Holy Grail" or "The Big Lebowski," secure in the knowledge no one has seen any movies other than those you've seen. Name anything else, and you'll risk being pilloried as pretentious.
It's clear that children of the '80s and '90s never got over their childhoods — you'll rarely catch '70s kids rhapsodizing over, say, the Disney movies of the era, or even a touchstone like "The Bad News Bears." It's the generations after that fetishize what they grew up on as things to be revived infinitely — otherwise, we'd all be sitting around listening to '40s radio serials forever and ever.
It's fascinating that movies like "The Goonies" or "The Secret of the Ooze" can maintain cultural power for ten, maybe even 20 years — far more than their initially disposable intent. And it's even more interesting that they can become culturally totemic items simply because they were part of people's childhoods. More so than in the past, generations can agree on shared experiences' value simply because mass-marketing dumped everyone there at the same time.
And that's freaky, implying a degree of cultural solipsism, where a degree of shared cultural experience matters more than whether or not someone two decades later will be interested in those movies. It's the same impulse that, say, led Oscar-winning screenwriter Diablo Cody to show "Labyrinth" (one of the most popular midnight movies ever) and "Pretty in Pink" when she got a chance to program a slate for the New Beverly Cinema, knowing nostalgicists will always find each other and everyone else is just a poser.
Here's my question. One decade's pop artifacts aren't worse than another's. So why is it that only recently kids have grown up to belligerently champion their experiences and media as greater than any other? Just because media has unified and made it easier than ever to relate to other people? When did lousy movies becomes inviolable landmarks? Will the adults of 20 years on harbor such fanatical loyalty to "Shrek 2"?
[Photos: "The Goonies," Warner Bros., 1985; "Teenage Mutant Ninja Turtles II: The Secret of the Ooze," New Line Cinema, 1990]