Tahiti Boy & The Palmtree Family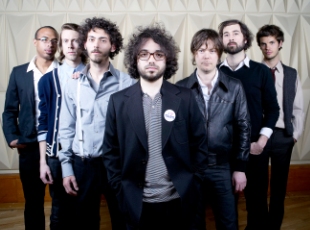 Posted by Brandon Kim on
Tahiti Boy is Juilliard Schooled David Sztanke who returned to France and put together a lovable Parisian band, The Palmtree Family. Along with contributors like Tunde Adebimpe who sings on "That Song" they've put out a Spring pop record of note. Some cello, some Rhodes keys, a bit of The Beatles and a lick of Serge Gainsbourg.
[Tahiti Boy & The Palmtree Family. Photo by Thomas Millet.]
French composer Michel Legrand gets mention as a great influence (see something like Legrand's Windmills of Your Mind, oh and Tahiti Boy's 1973). The record, Good Children Go To Heaven, is out on Third Side.
Here's the sunny video for the track, "Brooklyn." It's a bit mid/late era Pavement to my ear. The Brooklyn I know is dirtier and there's generally a lot less flute… a damn shame. You can tell right away that if you knew these guys personally you'd probably laugh yourself silly. Here's to "doing nothin', hangin' out." Cheers Tahiti Boy.