SXSW, Villagers – "Becoming a Jackal."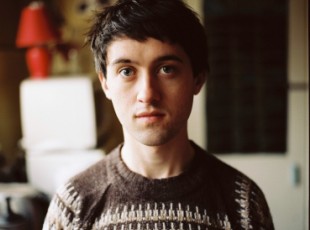 Posted by Brandon Kim on
Dublin's Villagers have been making a wee name for themselves in Ireland, opening for the likes of Neil Young and touring Europe with Tracy Chapman. The creation of Conor J. O'Brien, Villagers are one of those revolving players acts, possibly a reaction to the "existential differences" he experienced with his former band, The Immediate. Now it's just about the songs, ideally anyway.
[Conor J. O'Brien of Villagers. Photo by Richard Gilligan.]
They're playing their first US show tonight in NYC at the Mercury Lounge and then moving swiftly on to SXSW. A record on Domino titled, "Becoming a Jackal," is due out in June (or May if you're in the UK).
Check out this video for the title track, by director Ferry Gouw, who did the crazy Major Lazer Video. I can't say it's pleasing to behold, especially if you have been educated about the nightmare that is the pork industry. But I like how the song pulls me back into a kind of Simon and Garfunkel-come-Randy Newman late 60's mind trip. Wait for that bass guitar, wait for it.
Here's a list of Villagers shows at SXSW should you find yourself there:
Wed. 3/17:
3 PM – Urban Outfitters in-store (2406 Guadalupe Street)
6:30 PM – Rare magazine party @ The Long Centre, City Terrace (701 W Riverside Dr)
11 pm – Music From Ireland SXSW Showcase @ Friends (208 E 6th St)
Thurs. 3/18
4:45 PM – Bull McCabe's (714 Red River Street)
Fri. 3/19:
1:30 PM – Music From Ireland Party (with full Irish breakfast) @ B.D. Riley's (204 East 6th Street)
Sat. 3/20:
1:30 pm – Domino Publishing Company showcase @ French Legation Museum (802 San Marcos St)
3:50 pm – MOJO Bootleg BBQ @ Mean Eyed Cat (1621 West 5th Street)
5:45 pm – Kevchino.com showcase @ Café Mundi (1704 East 5th Street)