SXSW, Sharon Jones & The Dap-Kings.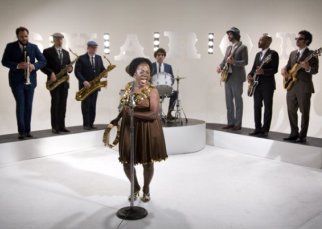 Posted by Brandon Kim on
I discovered Sharon Jones & The Dap Kings in a run down record store in Milwaukee in 2002. I was browsing Electric Prunes or Electric Flag records I can't recall which, maybe both. Then this music came on that was so thick and good, so real, so Soul! I asked what it was and one of the heads tossed me a 45.
I looked at the Daptone label. The A side, which was playing on the aging sound system, was called "Make It Good To Me." It made me want to quit the game and just make love for the rest of my days. "They don't make 'em like this anymore do they?" I said. The place erupted, some laughing, some agreeing, a piece of the ceiling dropped down in the corner. Then this cat in an enormous pair of NASA-issue plastic glasses broke the news. Sharon Jones & The Dap Kings are a modern band, this was their first record!
I was dumbstruck. Then we all went about booking them for a series of gigs (Milwaukee's a big funk & soul town), true story. I've never seen a finer live band. They will blow you to pieces and look good doing it. Been in love ever since. You can should find such genuine happiness too, dip dap into these gold sounds…
Here's the title track off of the new album, I Learned the Hard Way set for a release on April 6, 2010 on Daptone records.

"I Learned The Hard Way" – Sharon Jones & The Dap Kings.
Dear Sharon Jones & The Dap Kings play SXSW this week then hit the road on a release tour. Here's the SXSW shows:
Wed Night (3/17) – NPR Showcase at Stubbs
Set Time is 9:45 PM – 45 Minute Set
Thursday Afternoon (3/18) – Billions / Ticketfly Day Party at The Mohawk
Set Time is 2:50 PM – 40 Minute Set
Friday Afternoon (3/19) – Spin Day Party at Stubbs
Set Time is 3:10 PM – 30 Minute Set
Friday Night (3/19) – AOL Showcase at the Austin Music Hall
Set Time is 12:30 AM on 3/20 – Set length TBD