SXSW Narrative Feature Winner "Tiny Furniture," free soundtrack.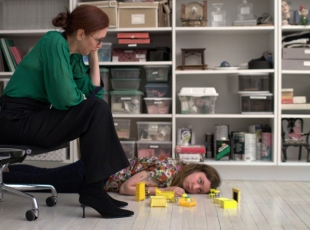 Posted by Brandon Kim on
Lena Dunham is the 23 year-old success story behind this year's big film winner at SXSW. She's the writer, actor and director of "Tiny Furniture," a very autobiographical, finding yourself tragicomedy.
The set up is thus: "22-year-old Aura returns home to her artist mother's TriBeCa loft with the following: a useless film theory degree, 357 hits on her Youtube page, a boyfriend who's left her to find himself at Burning Man, a dying hamster, and her tail between her legs." The loft is really her mother's and her real mother and sister also star. It all sounds a bit overly home made and self absorbed, if too post-graduate what do I do now familiar.
But they say write what you know, and it seems Ms. Dunham does that quite well. "Ms. Dunham is a keen writer, creating angular, quietly weaponized dialogue that her characters use to maim one another," writes NY Times David Carr.
The film was scored by Teddy Blanks. Singer/songwriter/medieval jewelry designer Rebecca Schiffman who I've talked about before, has a song on the soundtrack too. It's a good time, and you can get it free from the filmmakers here!
Here's an incredibly long trailer of "Tiny Furniture" to immerse yourself in.
More music and stuff on the fascinating Rebecca Schiffman.