The Spirit Awards Get "Precious"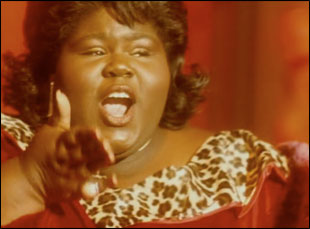 Posted by IFC on
"Precious: Based on the Novel 'Push' by Sapphire," director Lee Daniels' film about how an abused Harlem teenager pulls herself away from her degrading home life with help from a teacher, a social worker and a hospital nurse, swept the 2010 Spirit Awards tonight, winning best feature, director, first screenplay, supporting female (for Mo'Nique) and female lead (first timer Gabourey Sidibe).
Crowd favorites "Anvil! The Story of Anvil" and "(500) Days of Summer" won the prizes for best documentary and best screenplay, while Scott Cooper's "Crazy Heart" was designated best first feature. Lynn Shelton's comedy "Humpday" won the John Cassavetes Award for best film under $500,000, and Jeff Bridges (for "Crazy Heart") and Woody Harrelson (for "The Messenger") won best supporting actor and best lead actor.
Lone Scherfig's "An Education" picked up the prize for best foreign film, and Roger Deakins snagged the prize for best cinematography for "A Serious Man."
Best Feature:
"Precious"
Producers: Lee Daniels, Gary Magness, Sarah Siegel-Magness
Best Director:
Lee Daniels, "Precious"
Best First Feature:
"Crazy Heart"
Director: Scott Cooper
Producers: T Bone Burnett, Judy Cairo, Rob Carliner, Scott Cooper, Robert Duvall
Best Screenplay:
Scott Neustadter, Michael H. Weber, "(500) Days of Summer"
Best First Screenplay:
Geoffrey Fletcher, "Precious"
John Cassavetes Award (For the best feature made under $500,000):
"Humpday"
Writer/Director/Producer: Lynn Shelton
Best Supporting Female:
Mo'Nique, "Precious"
Best Supporting Male:
Woody Harrelson, "The Messenger"
Best Female:
Gabourey Sidibe, "Precious"
Best Male:
Jeff Bridges, "Crazy Heart"
Best Cinematography:
Roger Deakins , "A Serious Man"
Best Foreign Film:
"An Education"
Director: Lone Scherfig
Best Documentary:
"Anvil! The Story of Anvil"
Director: Sacha Gervasi
Acura Someone to Watch Award:
Kyle Patrick Alvarez, director of "Easier With Practice"
Chaz & Roger Ebert Truer Than Fiction Award:
Bill Ross and Turner Ross, directors of "45365"
Piaget Producers Award
Karin Chien, producer of "The Exploding Girl" and "Santa Mesa"
The 2010 Spirit Awards were hosted by Eddie Izzard and aired live and uncensored on IFC.