Space is the place where indie film should head.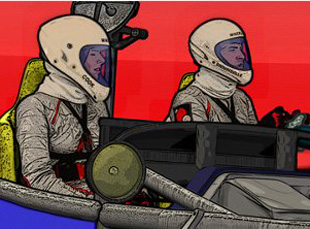 Posted by Vadim Rizov on
So far I've seen two low-budget sci-fi exercises here at SXSW: the witty and playful "Mars" and a bizarro fiasco called "Earthling." (There are no words. At least no nice ones.) The two have served me due notice of something that should've been sooner: space is the place where indies should go.
"Science fiction" is supposed to have at least, you know, some science in it, even if it's all speculative. That used to mean lots of attempts — both expensive and cheap — at staging realistic spaceflight dramas and battles. As it turned out — "The Right Stuff" aside — this wasn't always compelling cinema. Who remembers the likes of "Marooned" (Gregory Peck as a NASA director!) or "Space Camp," except as, well, camp?
If you can avoid the expensive effects, it turns out space can be a cheap and liberating way to avoid realistic drabness. "Moon" is okay and all, but still keeps closer to the old breed of space sci-fi, winking allusions to "2001" and all. But something like the heady "A Scanner Darkly" suggests a way out: science fiction as a relatively inexpensive series of visual ideas that can open up your film. (Or you can make "Christmas on Mars" and have that be your whole deal. Whatever works.)
The old, literal-minded insistence on hardware is unnecessary. The very fact that you can tap into a new and original idea means that suggesting its outlines on screen visually is enough: imagination will do the heavy lifting.
So here's a modest suggestion: sci-fi, like fantasy, should ditch the science and go straight for the metaphorical jugular. NASA's on the ground and no one's invested in our space program anymore (which is, honestly, a bummer). Time to ditch all those Apollo dreams and rewrite the rules — like "A Scanner Darkly," like "Mars," even (I guess) like "Moon." The quotidian, you're on notice: an indie sci-fi wave would be most welcome.
[Photos: "Mars," That Mars Film, 2010; "Moon," Sony Pictures Classics, 2009]