"Serbian Film": Giving new meaning to the term "torture porn."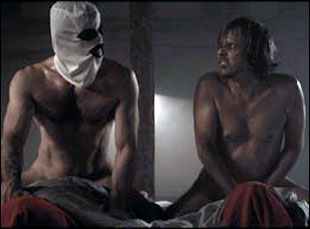 Posted by Alison Willmore on
Reviewed at the 2010 SXSW Film Festival.
When introducing the world premiere of "Serbian Film," the directorial debut of Srdjan Spasojevic, the filmmakers suggested that the screening might result in Alamo Drafthouse founder Tim League, who had programmed it, getting arrested. That's pretty big talk in a theater that's become the country's primary conduit for the most weird, wild, challenging or just plain fucked-up international cinema. But around the time that Milos (Srdjan Todorovic), a retired porn star who's lured in for one last (inevitably ill-advised) gig, is shown a tape in which a man attends a nude pregnant woman through labor, and then unzips and rapes the still-bloody infant, I thought that maybe they weren't kidding.
That "Serbian Film" is the new frontrunner in the extreme cinema rat race, there's no question. Charlotte Gainsbourg whipping out the scissors or Monica Bellucci in the underpass don't quite compare to someone getting fucked to death via their eye socket. And they also shouldn't be compared — while "Serbian Film" absolutely has aspirations beyond exploitation, they feel applied after the fact. Most of the graphic sequences, which are grouped near the end, don't come across as specific to the commentary on the Serbian national mindset toward which the film makes occasional gestures. They're more like live-action recreations of guro's greatest hits (if you're unfamiliar with term, may I direct you to this NSFW link at the always-tactful Encyclopedia Dramatica).
So Milos has been whittling away the nest egg he'd saved up over his porn star years, before he left the business to get married and raise a son. He's approached by a mysterious millionaire named Vukmir who pitches him on a plan to make pornographic high art, but refuses to give him a script ahead of time. The shoot starts getting weird, and Milos tries to quit, but instead wakes up groggy and covered in blood four days later, heading off on an extremely disturbing variation on "Dude, Where's My Car?" set to throbbing techno and flashes of grotesque imagery as how he spent that missing time starts coming back to him. The film's a slow build, and that build-up can be clunky (the constant talk of Milos' artistry as a porn leading man seems awfully silly, especially given the glimpses we're shown of his past work), though technically the production is well put together, making full (if familiar) use of the warren of dark hallways, industrial rooms and spotlit, shadow-shrouded spaces in which the Vukmir's film is being shot.
Movies can use transgressive topics and imagery toward great artistic resonance — "Dogtooth," also here at SXSW, manages that nicely. They can also just use them for pure shock/novelty/boundary-pushing, which is where I'd group "Serbian Film." That it comes from a country that's spent decades deep in violent conflict, civil unrest, corruption and ethnic tensions makes it tempting to read more into the film than I think it actually offers — ultimately, it has as much to say about its country of origin as "Hostel" does about America, which is a little, but nothing on the scale its title suggests.
As is, it's impossible to imagine "Serbian Film" getting a theatrical release, though I'm sure it'll be a major cult item on DVD someday.
"Serbian Film" currently has no U.S. distribution.