Where the sequels have no name.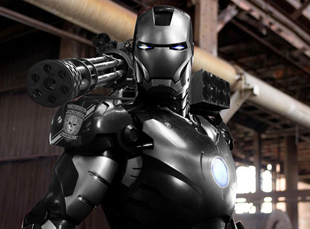 Posted by Vadim Rizov on
Outside a movie theater yesterday, I saw in a row the posters for "Shrek: The Final Chapter," "Toy Story 3" and "Iron Man 2." It's adorable to see three posters where the size of the sequel number and the familiarity of the characters means there's no necessity to actually name the damn film, an impressive claim upon the imaginations of viewers.
The golden age of franchises (at least from a studio point of view) was probably the '80s, with its innumberable, infinitely extendable series: "Nightmare on Elm Street," "Friday the 13th" and "Halloween" on the horror tip, the lumbering "Star Trek" procession on the blockbuster side, the "Police Academy" films for comedy. Things stalled in the '90s, but now we have the seemingly unstoppable juggernaut (heh) that is "Saw" and Sony's puzzling determination to reboot "Spider-Man" for what will effectively be six films.
Yet despite the resurgence of the endless franchise, we are denied the consolations of a cursory subtitle designed to, if not instruct and enlighten, at least provide a trivia answer for future use. If the Elm Street franchise tended to unimaginatively stress the dream motif ("Dream Warriors," "The Dream Master" and "The Dream Child" all came in a row), the Halloween franchise at least had the Ozzy-esque "Season of the Witch" before stressing the many different aspects of Michael Myers ("Return," "Revenge," "Curse").
The low-hanging-fruit guys behind "Friday the 13th" didn't even begin to have subtitles until the fourth installment, the fallaciously titled "The Final Chapter" (just like "Shrek"!), and subsequently had to make up slightly more compelling subtitles: "Jason Takes Manhattan" is a good one, although nothing can top "Jason Goes To Hell: The Final Friday." The "Star Trek" titles were mostly portentous ("The Undiscovered Country" cribs from "Hamlet," for god's sake).
Still, even such perfunctory efforts are preferable to the utilitarian nature of the blank "2" or "3," which implicitly makes watching the movie more of a cultural given than something you might actually choose to do autonomously and joyously. There's something vaguely insulting about the "you already know this piece of cultural iconography" attitude, as if there were no choice in the matter. Or maybe the posters are secretly part of a "Sesame Street" tie-in to teach children basic numbers wherever they go, who knows. Either way, they're ever so slightly demeaning. Isn't there another way to sell a movie besides "WE'RE BACK! GET READY!"?
[Photo: "Iron Man 2," Warner Bros., 2010; "Jason Goes To Hell: The Final Friday," New Line Cinema, 1993]