Rourke and Statham's "13," "Predators" to prey on SXSW.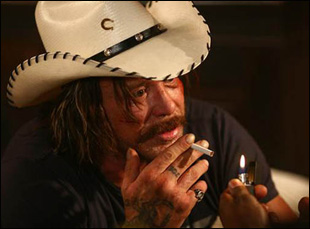 Posted by Stephen Saito on
As if free breakfasts and concerts weren't exciting enough, there will be even more to enjoy at this year's SXSW with the last-minute additions of an exclusive first look at Robert Rodriguez's "Predators" and the world premiere of the Mickey Rourke-Jason Statham thriller "13" during the opening weekend of the film festival.
Frankly, it wouldn't be SXSW without Rodriguez, the Austin auteur who has spent previous festivals discussing the future of 3D with "Coraline" director Henry Selick and previewing his "Grindhouse" flick "Planet Terror." He will help open the festival on March 12th at the Alamo Ritz, where he and director Nimród Antal will show a sizzle reel from the July 9th reboot of the alien action franchise starring Adrien Brody, Topher Grace, Laurence Fishburne and Rodriguez staple Danny Trejo. They'll also stay for a Q & A with the audience. Unfortunately, only badge holders will be allowed into the 10:15 p.m. screening on a first-come, first-served basis.
The following night on March 13th, Géla Babluani's remake of his own 2005 French crime thriller "13" will screen at midnight at the Alamo South Lamar as the final "super secret" movie in the SX Fantastic section. Rourke and Statham headline an eclectic cast including "True Blood"'s Alexander Skarsgård, Emmanuelle Chriqui, Ray Winstone, Natasha Lyonne, 50 Cent, Michael Shannon, Ben Gazzara and "Control" star Sam Riley in this film about a poor young man (Riley) who unwittingly enters into an underworld game of Russian roulette.
The full schedule for SXSW, which runs from March 12th through 21st, can be found here and you can be sure to find up-to-the-minute coverage during the entire festival on IFC.com.
[Photo: Mickey Rourke in "13," Magnet Media Group, 2010]