"Reel Injun," or just playing one on TV?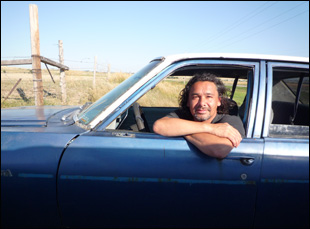 Posted by Matt Singer on
Reviewed at the 2010 SXSW Film Festival.
Close your eyes. Say the phrase "Native American" and examine the image your mind conjures up. The man I see, informed by a lifetime watching movies, is seated atop a horse, an elaborate necklace dangling in front of his chest, his face flecked with war paint, his hair held in place by a headband. Who do you see? Is he wearing a headband? He might; Native Americans in the movies very often do. In real life, though, Native Americans almost never wore headbands. Movie Native Americans only wear them because back in the silent movie era, Native Americans were played by white actors in redface and they needed something to hold their wigs on during stunts and fights. Hence, headbands. So many stuntmen wore so many headbands that they became an intrinsic part of Native Americans' image on screen, and like so much about the way they've been portrayed in movies for a century, it is utterly inauthentic.
The gulf between the Native Americans of the film world and those of the real world is the subject of SXSW selection "Reel Injun" by filmmaker Neil Diamond, who just officially replaced "Hunger" director Steve McQueen as the director with the most unfortunately confusing name in the entire world. This Neil Diamond is a member of the Cree nation, and, according to his official bio on SXSW.com, "one of Canada's foremost Aboriginal filmmakers and photographers."
In "Reel Injun," Diamond blends two popular documentary formats into one hybrid: The Documentarian's Journey, where the filmmaker goes on a quest to find something or someone (e.g. "Roger & Me") and The Minority Survey, which traces the history of a minority's representation in cinema (e.g. "Fabulous! The Story of Queer Cinema"). Diamond, who narrates the film and appears on-screen, announces that he's taking a rez car to Hollywood to uncover the truth about its rocky relationship with Native Americans. Along the way, he examines different native stereotypes — the "Noble Injun" of "The Silent Enemy," the "Savage Injun" of "Stagecoach," the "Groovy Injun" of "Billy Jack" — and charts how they have evolved over time.
The road trip storyline doesn't pay off. Diamond spends the entire movie traveling to Hollywood, then when he finally gets there, he interviews one actor for a few minutes and leaves. That whole aspect is just a blatant attempt to graft a narrative onto a doc that doesn't otherwise have (or need) one. What redeems the travel portions of the film are the modern Native Americans that Diamond encounters on his journey, whose diverse lives and livelihoods serve to counterbalance the stereotypical imagery of the old Hollywood movies Diamond shows.
There's the stuntman who brags about his range (he can play Latinos and Muslims as well as natives). There are activists who, in 1973, were under siege from the American military when Marlon Brando had Sacheen Littlefeather accept his Academy Award for "The Godfather" in 1972 as a protest of the mistreatment of Native Americans. We also meet surviving relatives of Iron Eyes Cody, the man who played the Native American who cried about pollution in the iconic 1970s commercial. Diamond calls Iron Eyes Cody the most prolific Native American actor in history even though, in reality, Cody wasn't even Native American. Maybe that's why he was really crying in that commercial.
Though one independent documentary can't erase, correct, or repair the mistakes of generations of cinematic slander, "Reel Injun" does, in some small way, reclaim a little bit of the Native Americans' on-screen heritage for Native Americans. The historical clips are varied and extensive, as are the array of talking heads, from critics and historians to filmmakers like Clint Eastwood and Chris Eyre (no mention of "Avatar," though, sadly). The film is enlightening, entertaining, and, thanks to the contributions of Oneida comedian Charlie Hill, very funny. Probably the best thing I can say about it is to tell you that the next time I close my eyes and imagine a "Native American," I can promise you this: he won't be wearing a headband.
"Reel Injun" will be released by Lorber Films this summer.
[Photos: "Reel Injun," Lorber Films, 2009]