Saluting the hues of "Red White & Blue."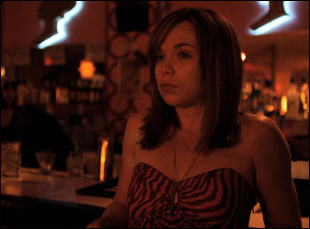 Posted by Matt Singer on
Reviewed at the 2010 SXSW Film Festival.
"Red White & Blue" is sort of like a slasher movie in which every character functions as both the killer and the prey. The film has three protagonists; all of them victims, all of them guilty. Everyone is wronged. Everyone, in turn, commits wrongs in retaliation.
Like its title, the film has three parts, one for each protagonist. First, we meet Erica (Amanda Fuller), who spends night after night sleeping with an endless parade of anonymous hookups. She'll sleep with anyone, it seems, but only once, and only if she doesn't know them. Clearly troubled, she's deeply suspicious of anyone who is kind to her, even the patient, polite Iraq war vet who lives in the same co-op as she does and who gets her a job at the hardware store where he works. His name is Nate (Noah Taylor) and while he clearly takes pity on Erica, there are signs that he, too, is not mentally well — by way of explaining his kindness toward Erica, he tells an unsettling story from his childhood that involved remorselessly torturing animals. The third lead is Franki (Marc Senter), a musician in the Austin music scene with a cancer-stricken mother. His one-night stand with Erica in the beginning of the film leads to a major discovery that throws all three characters on tilt for the rest of the movie.
The story that explodes from these three characters' confrontations bears certain resemblances to other slasher films and even to torture porn, but director Simon Rumley is far more interested in experimenting with form than pleasing genre classicists. One of his most provocative choices is the use of unconventional montage editing, particularly in the opening sequence that establishes Erica's promiscuous routine. He cuts from establishing shots right into the middle of scenes, then cuts away again after two or three lines of dialogue. The unusual rhythms never let the audience grow comfortable; the result is a near subliminal sense of discomfort that builds slowly, minute by minute.
Even at the end of the film, when "Red White & Blue" builds towards a killer crescendo after one character goes hunting for another and the story begins to more closely resemble a more traditional horror film, Rumley still refuses to concede to gory expectations. In fact, the camera, which glimpses the violence but never wallows in it, seems as unsettled by the gore as we are.
There are numerous visual allusions to the stars and stripes in "Red White & Blue;" a flag that hangs outside a character's house, another on the back of one character's vest. Given that title, the flag motif, and Nate's status as a deranged veteran and possible undercover agent for the CIA, should the film be seen as a statement about something intrinsically violent in the American spirit? All these characters have is an ongoing cycle of tragedy and retribution. We use those colors — red, white, and blue — to describe our flag, but also in phrases like "blood red," "white hot anger," and "black and blue bruises." They may be American colors. They may also be the colors of violence.
"Red White & Blue" is currently without U.S. distribution.
[Photos: "Red White & Blue," Fidelity Films, 2010]