Brett Ratner is the new Harvey Weinstein.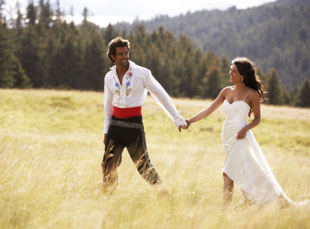 Posted by Vadim Rizov on
One year, two recuts — Brett Ratner is stepping up as some kind of go-to producer savant. Last month, the talked-about Sundance doc "Catfish" was snapped up by Rogue Pictures with Ratner in line to "help to finish the final product since it's still rough. He'll refresh it."
Now, as the New York Times reports, Ratner has performed the same dubious service for the Bollywood film "Kites": cutting 28 minutes and dubbing most of the characters into English. "It was two characters that were fish out of water," said Ratner, "only here it was an Indian and a Mexican." Perfect — just like "Rush Hour." Cross-over success, here we come.
Recutting films to smooth them down for audiences (especially foreign ones) is an oft unwelcome but time-honored studio practice. And it'd be foolish to argue with Ratner's impeccably populist instincts — his "Rush Hour" films and "X3" were undistinguished but ubiquitous cultural monoliths. Ratner essentially has the instincts of a producer rather than a director — he understands the value of combinations of marquee names and franchises — so it's not surprising people would trust his spin on acquisitions.
The danger of recutting, of course, is risking choppiness and/or total incoherence. My favorite example was the Weinstein Company's drastic sheering of "The Protector," the lavishly entertaining follow-up to "Ong Bak." Displaying a nearly total mistrust of the audience, the Weinsteins went all out, removing 25 minutes, changing entire plotlines in the subtitles and even cutting down the fight scenes (the film's very raison d'etre).
This had the unexpectedly cool effect of rendering a seriously goofy movie nearly completely incoherent, which — considering martial-arts spectacles aren't the heaviest on logic to begin with — was actually kind of fun. At one point, Tony Jaa enters a water-logged temple and has to fight with fire. Why is there water? Why is there fire? Who knows.
Ratner won't do anything that extreme, of course. At least, unlike Weinstein, he's not going to blather about how he's just trying to serve the artist.
[Photos: "Kites," Aamir Khan Productions, 2010; "The Protector," The Weinstein Company, 2005]