The most puzzling filmmakers of them all.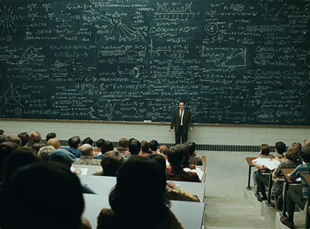 Posted by Vadim Rizov on
In preparation for the Oscars, Slate's Juliet Lapidos takes one more look at "A Serious Man," which she deems "the most puzzling of the best-picture nominees." We've been down this road with the Coens before, where the film's inscrutability rebuts any efforts to pin it down — take "Barton Fink," whose novella-length Wikipedia entry reads like the boiled-down essence of a thousand graduate theses.
To the extent that the Coens absolutely refuse to discuss whatever any of their movies might "mean," they're like David Lynch, though their work isn't nearly as obtuse. All of their films have strange, willfully monolithic elements — look at it from the right angle and "The Big Lebowski" is more philosophical discourse than slacker comedy. (In general, few filmmakers have so consistently peppered their work with philosophical references — on "The Man Who Wasn't There"'s commentary track, the brothers get a big kick out of the fact that Tony Shalhoub's speech about the Heisenberg uncertainty principle is just wrong.)
Personally, "Barton Fink" or "A Serious Man" seem fairly straightforward to me. "Barton Fink" is about the arrogance of a man who thinks he's speaking on behalf of the working people until it becomes very clear that he isn't and everything burns down; "A Serious Man" is a long joke about how asking the question of whether seemingly meaningless bad events have meaning is, in and of itself, meaningless.
The thing about the Coens' proposed inscrutability, though, is that they're very good at giving you just enough allusive possibilities to hang yourself with your own interpretive rope. Compare that to Lynch's work: after years of arguments and group efforts, there are now mostly standard, accepted interpretations of how "Mulholland Drive" and "Inland Empire" work. His films are all id, but they're not freighted with the weight of too many things to sort out.
I swear that the most underappreciatedly inscrutable film of recent years is "There Will Be Blood." You want to talk puzzling? Let's talk about a movie that gives every outward indication that it's an allegory for something, with morality play names (Daniel Plainview, the Sunday family of Eli — both Paul and Abel), overarching historical framework and religion vs. business framework. But if you try to add up the pieces, you just can't.
"Magnolia," P.T. Anderson's earlier, similarly elegant but maddening exercise, starts with the promise "This will all make sense" and never delivers. Instead, we get a scientifically explained rain of frogs. Truly, Anderson should be hailed as the most overtly brain-testing director working — one who promises something he has no interest in delivering.
[Photos: "A Serious Man," Focus Features, 2009; "Magnolia," New Line Cinema, 1999]