How Apatow's actors have fared after "Freaks and Geeks" and "Undeclared."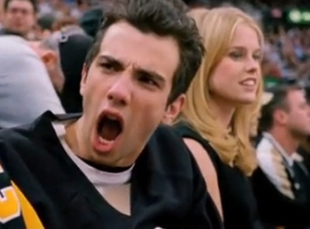 Posted by Vadim Rizov on
Judd Apatow veteran Jay Baruchel arrives to yank us out of the post-Oscar hysteria, addressing the rigors of time-filler filmmaking. Discussing his low-concept vehicle "She's Out Of My League" in the LA Times, he notes, "there were some days when I [was…] having a dog lick pâté off my crotch for 12 hours. When I got home, it was like 'The Crying Game.' I took the most depressing shower ever. Then there would be days when I just had to make out with Alice [Eve], and it was like, 'I picked the right job.'"
Some members of "Freaks and Geeks" and "Undeclared" have gone on to career after-lives that have eclipsed the cult hits' collective wattage. Seth Rogen, of course, James Franco, arguably Jason Segal. But many of the rest were left behind — especially the adult actors as a whole, who retreated back into character bit obscurity (no one needs new old blood).
Baruchel's one of those yet to break out — he calls himself a perpetual "cusper," since promises of a breakthrough (most recently in fellow Apatow alum Ben Stiller's "Tropical Thunder") never actually happened, which doesn't bother him. Indeed, most of the Apatow company not since confined to TV purgatory keeps popping up in the most incongruous places.
Samm Levine's post-"Freaks" career high as one of the titular "Inglourious Basterds" took his uber-Jewish rage from high school to its logical conclusion. But Linda Cardellini, as befits her former rebellious Mathlete Lindsey Weir, went on to be a bright nurse ("Samantha Taggert") on "ER" (for 126 episodes, or seven times as many as her "Freaks and Geeks" cult immortalizing turn). Work is work.
What's unusual about the two Apatow TV creations (three, if you want to count co-creating "The Ben Stiller Show") is that so many of the actors did leap to big-screen respectability — not just mediocre comedies, but big hits. (Jason Segal's rebooting the Muppets!) That's notoriously the toughest lateral career leap to attempt in the biz. More people might have seen "The Fresh Prince of Bel-Air," but only Will Smith made it out of there, you know?
At this rate, it's entirely possible the collected careers of Rogen, Franco and Segal might even eclipse Apatow's, still regrouping after the (undeserved) failure of "Funny People." In the meantime, it's no surprise most of their equally talented castmates got left behind. Baruchel should at least be glad he's still working in comedy, no matter how shoddy-looking — most of his co-stars are still grinding it out one episode at a time. Not everyone in the Apatow company gets to come up. Say a prayer for personal favorite Timm Sharp, no more or less promising than anyone else in "Undeclared." His biggest post-show stint has involved making onto the current season of Fox's Brad Garrett sitcom "'Til Death." That's no way to live.
[Photos: "She's Out Of My League," Paramount, 2010; "Inglourious Basterds," The Weinstein Company, 2009]