"Plastic Bag" = activist filmmaking done right.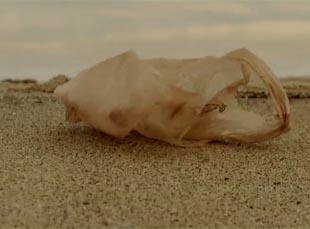 Posted by Vadim Rizov on
Last September, the assorted press corps gathered for a New York Film Festival screening of Jacques Rivette's "Around A Small Mountain." We knew it was to be preceded by a short film from Rahmin Bahrani. Little did we know that that short would include Werner Herzog's voice speaking from the perspective of a plastic bag. The room went wild! It was like MJ had come back from the grave.
"Plastic Bag," as it turns out, is part of a new ITVS initiative called "Futurestates," which, per the press release, is "an intriguing collection of 11 short films offering diverse visions about what life in America will be like in the decades and centuries to come." The visions, as it happens, aren't so much diverse as micro-focused on possible dystopias.
Take the opening minutes of Ben Rekhi's "Fallout": "Two million people man. Just gone. Poof." This is how the world ends: not with a bang, but with some hillside LA whimpering. Ditto the opening lines of Greg Pak's "Mister Green": "Now that catastrophic global warming has gone from theory to fact, no one seems to care. The environmental movement used to generation a thousand emails a day to the president." Or Amyn Kaderali's "The Other Side," which revisits a joke that was actually handled better by "The Day After Tomorrow" in which it's the Americans illegally crossing the border.
So yeah, activist filmmaking can still be a hot mess. But Bahrani's "Plastic Bag" is something else, graceful and playful instead of heavy with talking points. Bahrani, who has three features to his name — "Man Push Cart," "Chop Shop" and "Goodbye Solo" — tends to be thought of as either the quiet savior of understated social filmmaking or so much dour granola. Regardless, this short actually does what it's supposed to do. (I've certainly been trying to avoid using plastic bags ever since I saw it.) If you can ignore the unavoidable "American Beauty" overtones, it's pretty fun.
[Photos: "Plastic Bag," ITVS, 2009]