Patrick Wilson and Chloë Sevigny expose "Barry Munday" to SXSW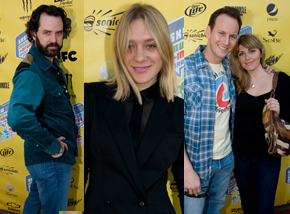 Posted by IFC on
Considering that the protagonist in "Barry Munday" is castrated in a brutal attack while watching a movie, seeing the stars and director of that film head in to the Paramount Theater with smiles on their faces might carry a hint of irony. But that was exactly the tone of Patrick Wilson, Chloë Sevigny and director Chris D'Arienzo as they walked the red carpet for the SXSW 2010 premiere of their new comedy.
"Barry Munday" tells the story of a womanizer (Wilson) who loses his family jewels by way of assault with a trumpet from the irate father of one of his conquests. Barry's life becomes even more complex when he is then sued for paternity by a woman he doesn't recall being intimate with.
Earlier in the day, Patrick Wilson and Chris D'Arenzio stopped by the IFC Crossroads house in Austin to speak with IFC News Host Matt Singer about the film on a live webcast and took the opportunity to have some fun with our photo booth. You can watch the video of the interview here.
[Click the thumbnails to see the images full size.]