Now See Hear: A Look Back At The 2010 SXSW Music Festival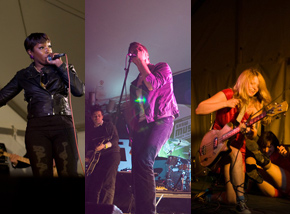 Posted by IFC on
SXSW is a massive festival, constantly growing in its attendees, participants and scope. While the festival has grown to showcase the arts of Interactive and Film, at it's core is one of the greatest music festivals anyone can ever hope to be part of.
It's been almost a week since the 2010 SXSW music festival came to a close, but the the memories of the incredible music IFC was able to experience while we were in Austin is still fresh in our ears. As we begin the year long countdown to SXSW 2011, enjoy a look back at some of the great performances in the clubs of Austin, TX from bands of every genre.
Visit @ SXSW 2010 for more IFC news, reviews and video from Music, Film and Interactive.
[Click the thumbnails to see the images full size.]