The difficulties of making a musical biopic now.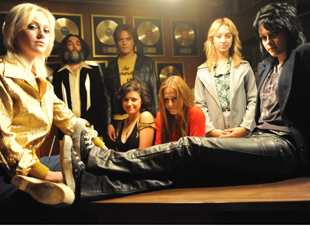 Posted by Vadim Rizov on
It's not unusual for things from the underground (whatever that is anymore) to percolate up to the mainstream without their creators getting the mainstream recognition they deserve: Brakhage and Derek Jarman become music videos, XTC becomes Franz Ferdinand and so on. But what happens if you keep the cycle insular?
Right now, we're awash in musical biopics about bands and musicians whose fame, in their day, was hardly overhwhelming. "The Runaways" focuses on a band whose first two albums actually peaked at #194 and #172 on the Billboard charts. The best-selling album of 1979 was Billy Joel's "52nd Street," but you may hold your breath in vain for a Joel biopic. Joy Division's "Closer" didn't even come close that year, which is presumably why we've been treated to two fictional depictions of Ian Curtis in the last decade (supporting player in "24 Hour Party People," lead player in "Control").
Documentaries are a whole other mess. If people look back at the '60s and '70s through documentaries and concert films like "Monterey Pop" (Simon & Garfunkel! The Who! Hendrix!) or "Gimme Shelter" (The Rolling Stones), the recent fragmentation of the pop culture experience into ever smaller and more insular segments — especially when it comes to music — makes it well-nigh impossible to imagine someone setting out to make a music doc (be it a profile film or straight up concert film).
In the '80s, Jonathan Demme made "Stop Making Sense" and captured Talking Heads at their personal best; in the aughts, he's filmed Neil Young not once but twice, which is as conservative as you can get. Reaching into the past is all you can do if you want to make a movie about a widely beloved musical figure. Contemporary musical docs focus on beloved acts with strong cults: there's no theatrical movie about Nickelback (30 million records sold worldwide and counting), but there's one about Danielson.
Bands now look to commercial licensing and movies to make money off their music more than album sales (duh); this is why one day you look up and the opening for "Step Brothers" is set to a Vampire Weekend song to stay ahead of the curve, amidst the usual '80s rawk the Apatow kids love. Broken Social Scene can be the fulcrum of a movie; the Old 97's can cameo in "The Break Up." So it's trickled down to the mainstream. But all the old-school lions of popular music either already had their biopic or probably never will.
Maybe that's because the big-selling stuff doesn't have the same cultural pull or urgency anymore — generations don't unite around the new equivalent of "Thriller" or whatever. And if you're in the mainstream, you don't worry too much about the cultural legacies of what you like (unless you're one of those people who clogs up Twitter on behalf of Justin Bieber, who trends every single day). But there's still a pull of urgency to championing acts, even these many years on, you think are undervalued/-known. You can't really make them fit the "Behind The Music" arc (it rarely gets that extreme with the financial stakes that much lower), but people will keep trying. If music is fragmented, the world of music films — fictional or documentary — is much the same.
[Photos: "The Runaways," Apparition, 2010; "Neil Young: Heart of Gold," Paramount Vantage, 2006]